For Father's Day in Vancouver there are fewer brunches and teas like Mother's Day, but there are still of activities and events around the city that the whole family can enjoy.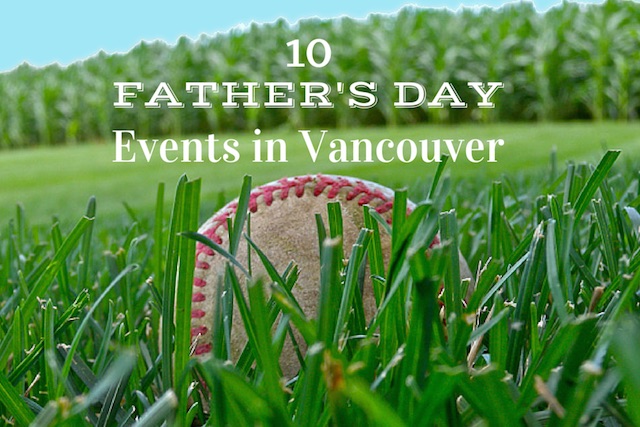 10 Father's Day Events in Vancouver
10. No Driving at Car Free Day on Commercial Drive, around Kitsilano, and on Main Street.
9. Playing Catch at Nat Bailey Stadium as the Vancouver Canadians host their annual Father's Day Catch.
8. Breathe and Relax at International Day of Yoga events in Surrey, Vancouver, Burnaby, and Squamish.
7. Celebrate National Aboriginal Day Vancouver at Trout Lake as a family. Start off with a pancake breakfast at 9:00am then enjoy canoe demos, arts and crafts, and live entertainment.
6. Catch some Superheroes in Action at Marvel Universe Live at the Pacific Coliseum.
5. Cheer on teams at the annual Rio Tinto Alcan Dragon Boat Festival in False Creek.
4. Shop for Ingredients for dinner, prepared lovingly by Dad or for dad, at the Ambleside Artisan Farmers Market, Kitsilano Farmers Market, or Mount Pleasant Farmers Market.
3. Fun for Everyone at the Vancouver Art Gallery's Family FUSE Weekend. Meet artists, musicians, dancers, performers, and educators. Participate in a range of fun activities, performances, and hands-on sessions throughout the Gallery.
2. Showtime! Watch 20,000 Leagues Under the Sea on the big screen at The Cinematheque, check out Disney's The Lion King at the QE Theatre, or solve a mystery with Holmes and Watson Save the Empire at the Metro Theatre.
1. Free World Cup Fun at the Fan Zone Downtown. Team Canada plays at BC Place on Sunday and if you don't have tickets, you can watch on the big screen with thousands of others at the Fan Zone at Georgia and Cambie.
Every day that the City of Vancouver's Fan Zone is open (with food trucks and lots of family activities) I'm giving away tickets to a World Cup match at BC Place. I even have tickets for the sold out final on July 5th! Visit the Fan Zone, snap a selfie, tag it #VanFanZone on Twitter and @Miss604, and you'll be entered to win.
Reference my full event list for June anytime and follow me on Twitter @Miss604 for more event info and activity ideas. You can also still enter to win a Harrison Hot Springs Family Kayak Package until Friday, June 19th. See the blog post for details »
NEW: Subscribe to the Weekly Events Newsletter
If you wish to receive this weekly/weekend event list right to your email inbox, please sign up for the new Miss604 Weekly Events Newsletter below. It will be sent once a week, only to those who opt-in.