For years I've bought and used Geisha Ink's liquid eyeliner, not because its products are consistently listed as a "must-have" in fashion magazines like Vogue and InStyle (which they are) but simply because it's best eyeliner available–it's long-lasting yet super easy to wash of. With a Japanese woman in a kimono gracing all its packaging, I always assumed the line was based in Japan, where it's manufactured, but recently learned I was wrong. Geisha Ink is actually local–owned and operated by Vancouver's very own Sara Au Yeong.
The genesis of the line began in 2006 when Sara was invited to be the head makeup artist for the reality television show, Pageant School: Becoming Miss America. Sara was hired to train contestants on professional makeup techniques and assembled their make-up kits. However, she found it a challenge to find an eyeliner and mascara could stay smudge proof and withstand the hot lights.
"As an artist, people were always asking, 'What for should I be looking for?' I couldn't find a product that I really liked, so I decided to make one."
So while visiting her relatives in Osaka, Japan, she met a cosmetics manufacturer that shared her vision, which lead to the first Geisha Ink product being born: the Geisha liquid eyeliner. Since then, she has also released the Ultra Volume Mascara, brow liners, and a mineral foundation, along with a Kabuki brush to apply the foundation.
Sara is constantly honing the formulas of her products to meet her high standards, including the removal of parabens and other toxic ingredients.
"I eat organic all the time. It's really important to me. So I carefully look at the hazardness scale of the ingredients and reduce any ingredients that are unsafe."
This spring, she launched a new mascara: The Silk Mascara.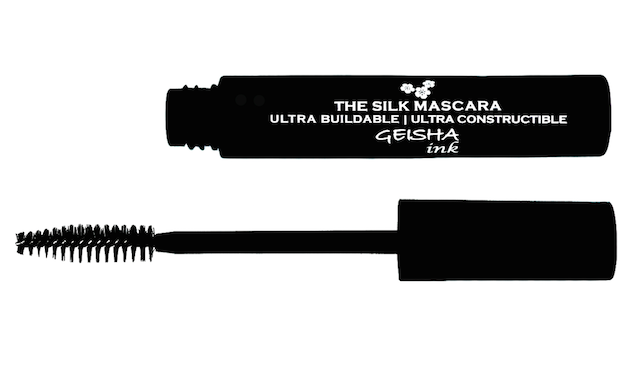 The formula includes fine silk powder derived from Japanese silk, an Ancient Japanese beauty ingredient. When I applied the product, it glided on smoothly, without and clumps. I was surprised at how long my lashes got with just one coat and how feather-light and soft to touch they were.
"Because silk powder is so lightweight, it does not weigh down lashes. Most mascaras use waxes which weighs your lashes down," explained Sara.
The look was very refined, fresh, and polished, which I thought was great for spring and on-trend with a softer eye. However, the mascara was also buildable. I applied more product to my top and bottom lashes, at every angle, and got a more dramatic look.
I applied the mascara at 8:30am and wore it all day (to meetings, a little 1-on-1 basketball game with a friend, and dinner out) and the mascara didn't smudge or flake off at all, which is amazing since I tend to rub my eyes more this time of year because of allergies. At around 11pm, the product came off easily with warm water and a gentle massage using my regular face cleaner. I'm over the moon to have found a wonderful mascara this season and for seasons to come. Better yet, it's local.
The Silk Mascara is available online or at local makeup shops like BeautyMark and KissandMakeup.
Silk Mascara Giveaway
Geisha Ink has offered up their Silk Mascara for one Miss604 reader to try, keep — and love! Here's how you can enter to win:
Leave a comment on this post (1 entry)
Post the following on Twitter (1 entry)
RT to enter to win @GeishaInk's #TheSilkMascara from @Miss604 http://ow.ly/MECsc
Follow Geisha Ink on Facebook and Twitter for more information. I will draw one winner from all entries at 12:00pm on Tuesday, May 12, 2015.
Update The winners are loucheryl and Jessica!