Presented by:

GO Fest is Whistler's Great Outdoors Festival, taking place Victoria Day Long Weekend it's packed with four full day of events and activities that celebrate outdoor recreation. Launched last year, this multi-faceted festival offers a chance to stroll through the hustle and bustle of an action-packed Whistler weekend or join in the fun as an extreme kayaker, music fan, disc golf player or aspiring artist by participating in one of the many competitions, clinics and concerts taking place around town.
GO Fest Whistler Great Outdoors Festival
Featured GO Fest Arts & Culture Events
WFF Adventure Film Series: Featuring independent outdoor adventure films from extreme sport to activism through adventure, the WFF Adventure Film Series, produced by the Whistler Film Festival, includes a six film lineup from six countries.
Painting the Peaks Plein Air-Artist Viewings: White Dog Whistler Studio Gallery artists will take their brushes, canvases, sculpting tools and easels to some of the stunning vistas around Whistler area, sharing their passion as they take you along an interactive adventure through the process of art creation. There are 3 locations to view the art making process, all free!
Featured GO Fest Sport Events
GO Enduro
The opening round of the North American Enduro Tour.
Jump Jam
The only event on the Freeride Mountain Bike World Tour with a women's category.
The Great Snow-Earth-Water Race
A multi-sport team relay from mountain top to valley bottom.
GO Fest Tennis Tournament
Compete in one of the few multi-level tournaments in BC.
DiscGO Golf Tournament
Three rounds of 18 holes and going fast, Disc Golf is filling quickly.
GO Sail Regatta
Compete on a lake known for its great wind and mountains vistas.
The Great Slush Cup
Board or ski to the great slush pit and surf the icy waters.
The Great Cheakamus River Extreme Kayak Race
Class 4+ rapids and a great spectator location.
GO Volleyfest
A four-on-four tournament and King or Queen of the beach competition.
GO Fest's Go Green Speaker Series
A Series of Outdoor Environmental Adventures: Expert adventure leaders will infuse information with inspiration, sparking conversations about local and global environmental issues and solutions.
Keynote Speaker Event: Partnering with those affected by global warming the most, Beyond Boarding has harnessed their digital power to bring the impact of global warming home on a human level. Hear Tamo Campos, and the Beyond Boarding collective, give voice to the stories we rarely hear with a collection of short films on their solidarity work with indigenous communities and environments at risk.
GO Fest Training & Demos
GO SUP at Nita Lake, GO Fish with fly casting instructor Aaron Goodis, participate in the TaG CYCLING Whistler Long Course Triathlon Training Camp, or Go Golf with a Nike Demo at Whistler Golf Club.
Live Music
Check out the lineup at the Whistler Village Square Main Stage:
Friday, May 15th
7:30pm April Wine
Saturday, May 16th
7:00pm Awards
7:30pm Current Swell
Sunday, May 17th
7:00pm Awards
7:30pm Dustin Bentall & Kendel Carson
8:15pm Bentall, Byrnes and Mann
Monday, May 18th
2:00pm Will Ross Band
3:00pm Dakota Pearl
4:00pm Willa
Whatever your activity level, there's something for everyone and GO Fest! It's a great reason to head up to Whistler this summer.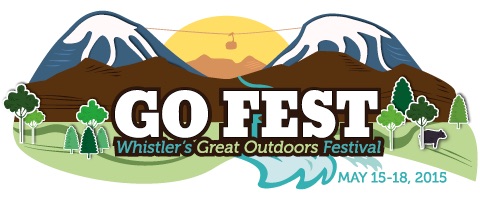 GO Fest: Whistler's Great Outdoors Festival
Come out and play May 15-18, 2015 at GO Fest, Whistler's Great Outdoors Festival! GO Fest is a new festival with four days of events, concerts and activities to welcome the warmer months of summer. Join the fun as an extreme kayaker, music fan, disc golf player or aspiring artist and enjoy Whistler's great outdoors. Visit whistler.com/gofest for details.