Cruise ship season is upon us as travellers from around the globe gather in Vancouver to set sail to ports of call up, down, and around the Pacific Ocean. Today, Port Metro Vancouver's 2015 Alaska cruise season officially kicked off with the arrival of the Ruby Princess at Canada Place. The 2015 season is expected to be strong, on par with previous years, with an estimated 800,000 passengers on 227 visits by 32 vessels.
Vancouver Cruise Ship Facts
Port Metro Vancouver's cruise facility has been recognized on a global stage as award winning. Vancouver was named the "Top North American Home Port" by TripAdvisor's Cruise Critic in the 2013 Cruise.Insight.2013Editors' Picks Awards, and also won two Cruise Insight Awards: "Most Efficient Terminal Operation" and "Best Turnaround Port Operations" for 2013.
Vancouver is the only homeport offering both one-way and round-trip itineraries through the picturesque Inside Passage along the west coast of British Columbia to Alaska.
There are 6 inaugural ship calls are expected in Vancouver this year: Jewel of the Seas (Royal Caribbean International); Ruby Princess (Princess Cruise Lines); Carnival Legend (Carnival Cruises); L'Austral (Compagnie Du Ponant); Le Boreal (Compagnie Du Ponant); Silver Discoverer (Silversea).
Annual Statistics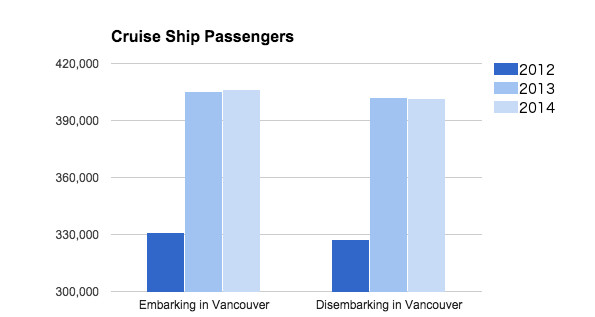 To give some perspective, according to the census in 2011, there are 603,500 residents in the city of Vancouver. Our population goes up by about 50-60% during cruise ship season!
Voyages: 191 (2012); 235 (2013); 243 (2014)
Cruise lines that come through Vancouver:
Carnival Cruise Lines
Celebrity Cruises
Compagnie du Ponant
Crystal Cruises
Disney Cruise Line
Hapag-Lloyd Cruises
Holland America Line
Noble Caledonia
Norwegian Cruise Line
NYK Cruises
Oceania Cruises
Princess Cruises
Regent Seven Seas Cruises
Royal Caribbean International
Silversea Cruises
When cruise ships are docked, you can expect to see tens of thousands of visitors around Downtown Vancouver, enjoying their time in the city. Check out the Port of Metro Vancouver Cruise Ship Schedule for 2015 to find out which weekends will be the busiest this summer.
Sources: Tourism Vancouver: Cruise Vancouver, Port Metro Vancouver, Port Metro Vancouver.