The Fraser Valley Food Truck Festival is making its way to Surrey on May 2nd, with 20 food trucks, artisans, live music, a beer garden, and family activities.
Surrey Food Truck Festival
Stop by the Cloverdale Fairgrounds (6050 176th St, Surrey) between 11:00am and 5:00pm on Saturday, May 2, 2015 to get your fill of food truck fare. Admission is $2 for adults, and kids under 13 are free. Members of the Fraser Valley Food Truck Association include: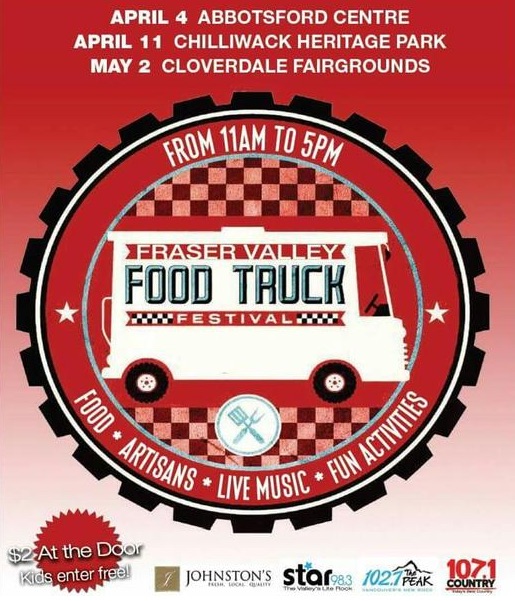 Aussie Pie Guy
Cheeses Crust
Guerilla Q
G's Donairs
Wilkyz Grill
Slavic Rolls
Dougie Dog
Suburban Spoon
The Kaboom Box
The Reef Runner
Chariot of Fries
Reel Mac & Cheese
Stolovaya Catering
Cravings Kettle Corn
Mollies Mini Gourmet
Big Red's Poutine
The Bannock Wagon
This Little Piggy
Rocky Point Ice Cream
Old Country Pierogi
Hot Grandma's Kitchen
Poomba's Smokehouse
Mama's Fish & Chips
Lenny's Lemonade
Cheese Street Grill
Tasty Torpedo Sandwich Co.
Taters – The Baked Potato Co.
The Fraser Valley Food Truck Association is organized by a group of regional mobile food vendors with the cooperative goal of providing resources and support to food truck vendors in the Fraser Valley Region, including the North-East sector of Metro Vancouver. Its mission is to promote its members by providing support and access to information. Mobile vending has experienced incredible growth in just a few short years and what was once a cottage industry has now become one of the fastest growing trends in food service.