May has arrived in Vancouver, with spring in full swing and hopefully some sunshine after April's showers. We have a long weekend coming up, markets and festivals, camping season, and lots of family fun to be had around the region. This month Miss604 is proud to sponsor BC Youth Week, the Surrey Youth Basketball & Breakdance Showcase, and the Surrey Children's Festival.
This event list is updated several times a week so be sure to check back often and submit your events (for FREE) via the contact form.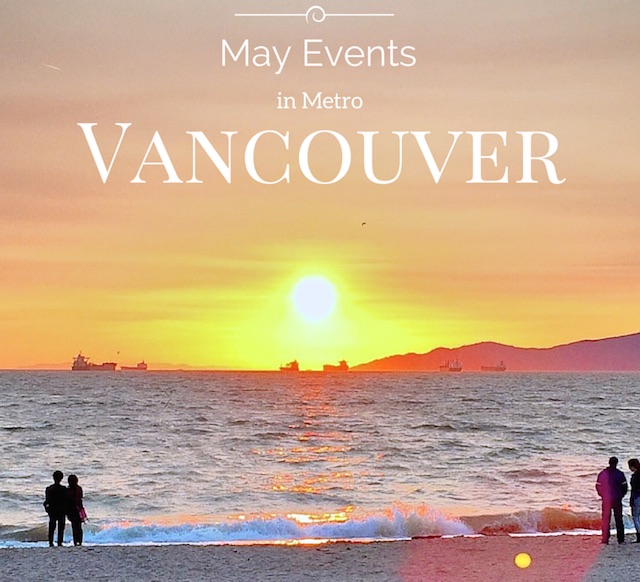 May Events in Metro Vancouver
Jump to: Friday, May 1st to Sunday, May 3rd, 2015
Jump to: Monday, May 4th to Sunday, May 10th, 2015
Jump to: Monday, May 11th to Sunday, May 17th, 2015
Jump to: Monday, May 18th to Sunday, May 24th, 2015
Jump to: Monday, May 25th to Sunday, May 31st, 2015

Multi-Day Events
Events that run for longer than three days in a row are highlighted in green below.

Friday, May 1, 2015
Sponsored by Miss604: BC Youth Week: Free/Affordable Events Around the Province
EAT Vancouver
Canstruction Vancouver
Langara Photography Grad Show: What the F Stop
Art World Expo™ at Telus World of Science
Vivaldi's Four Seasons at the Chan Centre
Vancouverite: A Comedy Show
Kimoto Gallery Opening Reception: DaySleeper by Kevin Boyle
BC Kidney Transplant Summit
Dusty Flowerpot Cabaret Presents: The Scarlet Queen of Mercy
Ouro Collective Feature Show: Contemporary Street Dance and Visual Arts
Vancouver International Burlesque Festival
Some Assembly Theatre & Roundhouse Youth Theatre Present: Webs We Weave
Vancouver Opera Presents: Sweeney Todd
DOXA Documentary Film Festival
Shipyards Night Market, North Vancouver
Saturday, May 2, 2015
Sponsored by Miss604: BC Youth Week: Free/Affordable Events Around the Province
Sponsored by Miss604: Youth Basketball & Breakdance Showcase
Got Craft? Spring Market
New West Artisan Fair
Wheel2Heal for Eagle Ridge Hospital Foundation
London Drugs Presents: LDFotoCon
Vancity Member Day at Science World
BC Mining Week Event in Vancouver
Surrey Food Truck Festival
Fair Trade Mother's Day Pop-Up Sale
Surrey World Labyrinth Day: Walk as One at 1—at Fleetwood Gardens
Beginner Swing Dance Intensive
Ouro Collective Feature Show: Contemporary Street Dance and Visual Arts
Vancouver International Burlesque Festival
Some Assembly Theatre & Roundhouse Youth Theatre Present: Webs We Weave
EAT Vancouver
Canstruction Vancouver
Dusty Flowerpot Cabaret Presents: The Scarlet Queen of Mercy
Vancouver Opera Presents: Sweeney Todd
DOXA Documentary Film Festival
Sunday, May 3, 2015
Sponsored by Miss604: BC Youth Week: Free/Affordable Events Around the Province
BMO Vancouver Marathon
MS Walk at Bear Creek Park in Surrey
Kids Help Phone: Walk So Kids Can Talk
Beaty's Birding Bonanza on Bird Day 2015
Big Brothers Spring Cleanup at Local IKEA Stores
Got Craft? Spring Market
International Dance Day Richmond
Olive Oil Workshop & Tasting
All Dressed in White Bridal Show
Beginner Swing Dance Intensive
Vancouver Academy of Music's Annual Showcase
Vancouver Recital Society: Paul Lewis
Kids' Stuff Swap Meet, Richmond
EAT Vancouver
Canstruction Vancouver
Dusty Flowerpot Cabaret Presents: The Scarlet Queen of Mercy
Vancouver Opera Presents: Sweeney Todd
DOXA Documentary Film Festival

Monday, May 4, 2015
Sponsored by Miss604: BC Youth Week: Free/Affordable Events Around the Province
Leigh Square, Port Coquitlam: Free Public Salon
Music Monday at Robson Square
Eight 1/2 Inches of Comedy: May Weather Week
BC Mining Week Event in Vancouver
Canstruction Vancouver
DOXA Documentary Film Festival
Tuesday, May 5, 2015
Sponsored by Miss604: BC Youth Week: Free/Affordable Events Around the Province
Rockaoke Live at The Railway Club
Teen Angst Karaoke: Hosted by Sara Bynoe
Borodin Quartet's 70th Anniversary Celebration: The Complete Shostakovich Cycle
Women4Women Speed Dating
Canstruction Vancouver
DOXA Documentary Film Festival
Wednesday, May 6, 2015
Sponsored by Miss604: BC Youth Week: Free/Affordable Events Around the Province
Legendary Army & Navy Shoe Sale Begins
A lecture by Jacques Herzog, Herzog & de Meuron
BC Mining Week Event in Vancouver
Canstruction Vancouver
DOXA Documentary Film Festival
Thursday, May 7, 2015
Sponsored by Miss604: BC Youth Week: Free/Affordable Events Around the Province
CircusWest Presents: Circus of Oz
Ballet BC Presents: Rite
Flexibility Workshop with Halina
BC Mining Week Event in Vancouver
BC Hospitality Foundation: Dish n' Dazzle
The Matadors with Guests at The Rickshaw
Sister: An Intimate Portrait of a Global Health Crisis (Film & Discussion)
Lift Cannabis Forum
Sparkle Music Video Premiere
Borodin Quartet's 70th Anniversary Celebration: The Complete Shostakovich Cycle
Yaletown Farmers Market
Canstruction Vancouver
DOXA Documentary Film Festival
Friday, May 8, 2015
Sponsored by Miss604 Friday Night Late Night Movies at the Rio Theatre
Opening Reception: It's Not Me You See
Vancouver Audio Show 2015
Walking Tours: Post-War Architecture
An Evening with Howard Jones at The Biltmore Cabaret
Movie Night: The Power of the Heart at Unity Vancouver
Spring Pop-Up #PaeganRitual
Shipyards Night Market, North Vancouver
International Night Market, Richmond
CircusWest Presents: Circus of Oz
Canstruction Vancouver
Ballet BC Presents: Rite
DOXA Documentary Film Festival
Saturday, May 9, 2015
Heritage Vancouver Top 10 Endangered Heritage Sites 2015 Tour
Brenna Innes Memorial Soccer Tournament
Firehall Arts Centre's BC Buds Festival
KPU Science Rendezvous
BC Liquor Stores: German Wines Meet Asian Cuisine
2nd Annual Got Ginch Pub Night Fundraiser
A Growing Affair Plant Sale
Ridgeway Spring Fair 2015, North Vancouver
Norman Foote at the Kay Meek Centre
20th Annual Queens Park Garage Sale
Terminal City Roller Girls Double Header
The Chan Centre Presents: Wu Man and the Shanghai Quartet
Surrey Public Picnic Party
Surrey Library Authors Among Us: History Writes: Inspired and Remembered
Surrey Library: A Special Day For Writers and Readers
Shubaloo Launch Party with 10 Local Bands and Beers
Hard Rubber Orchestra: CRUSH The Concert
Wrestling vs Burlesque Grand Slam
Wet Ape Presents: Swollen Members + Guests at The Imperial
North Vancouver District Library: A Whisky Library Fundraiser
Willowbrook Outdoor & Active Living Expo
Chilliwack's Art of Wine Festival
Borodin Quartet's 70th Anniversary Celebration: The Complete Shostakovich Cycle
Mother and Child Portrait Mini-Sessions by Bopomo Pictures
Trout Lake Farmers Market
Bloom Market, Fort Langley
Fort Langley Village Farmer's Market
International Night Market, Richmond
CircusWest Presents: Circus of Oz
Ballet BC Presents: Rite
DOXA Documentary Film Festival
Sunday, May 10, 2015
View 10 Mother's Day Events in Metro Vancouver
Mother's Day Brunch at Hycroft
Mother's Day at the Bloedel Conservatory
Mother's Day at The Glades Garden in Surrey
Hard Rock Casino: Mother's Day Brunch
Reid Jamieson's Mother's Day Matinee Benefit
Canucks Autism Network Sports Day at BC Place
Main Street Vinyl Record Fair
Township 7 Winery: Mother's Day Lunch & Spring Release Celebration
Lougheed Town Centre: Mom & Me Pop-Up Photo-Op Event
Baker's Market Spring 2015
Opus Outdoor Painting Challenge
Roedde House Museum Second Sunday Concert Series
Mother and Child Portrait Mini-Sessions by Bopomo Pictures
Kitsilano Farmers Market
Tracks: 7th Community Play & Arts Symposium
Bloom Market, Fort Langley
International Night Market, Richmond
CircusWest Presents: Circus of Oz
DOXA Documentary Film Festival

Monday, May 11, 2015
The Leader Within Presents: Motivation Monday Live
Blackbird Theatre Presents: Nathan the Wise by Gotthold Lessing
VSO Masterworks: Ravel and Falla with Angela Hewitt
Borodin Quartet's 70th Anniversary Celebration: The Complete Shostakovich Cycle
Tracks: 7th Community Play & Arts Symposium
Tuesday, May 12, 2015
Contemporary Art Gallery Feedback Series
Candlelight Tours at Roedde House Museum
Rockaoke Live at The Railway Club
Shop 4 Hope
UBC Robson Square: Your Heart Your Health
Tracks: 7th Community Play & Arts Symposium
Wednesday, May 13, 2015
Soundfigures: Films by Aura Satz at The Cinematheque
Tasting Plates New Westminster
Acoustic Band Showcase With Nandan, Maroda, Brothers Live at the Backstage Lounge
Borodin Quartet's 70th Anniversary Celebration: The Complete Shostakovich Cycle
Thursday, May 14, 2015
Southbank Writer's Program Reading Series
The Family's Pasta & Italian Cooking Classes
Lost Girls Burlesque at Portside Pub
Book Launch-Worth Fighting For: Canada's Tradition of War Resistance
Vancouver Improv Fight Club: Four Year Anniversary and Aprons for Gloves fundraiser
38th Annual Cloverdale Bed Races & Decorated Bike Parade
Turning Point Ensemble: Tasting Notes 2nd Annual Fundraiser
Help Click Help Kids: Definitely Not a Gala
NEEDS Album Release Party at Fortune Sound Club
Yoga for Life Yoga Rave
Merchants of Doubt Charity Screening with Special Guest Alan Cassels
The Dance Centre Presents: Aché Brasil
Roedde House Jazz Concert Series Presents: Braveheart
Langara Journalism Presents Toronto Star Investigative Reporter Kevin Donovan
First Impressions Theatre Presents: Scotland Road
Power Of My People Pop-Up Shop at Scott Landon's Antiques
Yaletown Farmers Market
Friday, May 15, 2015
Sponsored by Miss604 Friday Night Late Night Movies at the Rio Theatre
GO Fest Whistler
18th Annual Cloverdale Chili Cook-Off
Carl Bessai Premieres BAD CITY at the Rio Theatre
VSO Pops: Ella and Louis
Walk With Your Doc Week, Vancouver Events
The West Fine Art Show
Shipyards Night Market, North Vancouver
International Night Market, Richmond
Power Of My People Pop-Up Shop at Scott Landon's Antiques
Saturday, May 16, 2015
Playland Opening Day
Opera Mariposa: Tour de Force
Maker's Market
Genesis Theatre Presents: The Rockingbyrds!
BCSPCA: A Fetching Affair at the Gulf of Georgia Cannery
Truvelle Bridal Gastown Pop-Up Shop
Red Bull Tour Bus: Gastown
Vesak 2015 for World Peace
Arts and Crafts Family Show
Burnaby City Hall Farmers Market
New West Artisan Fair
Trout Lake Farmers Market
Richmond Night Market
Fort Langley Village Farmer's Market
International Night Market, Richmond
GO Fest Whistler
Walk With Your Doc Week, Vancouver Events
Power Of My People Pop-Up Shop at Scott Landon's Antiques
The West Fine Art Show
Sunday, May 17, 2015
Old Money: West of Denman Historical Walking Tour
Whitecaps FC2 Match at Thunderbird Stadium
Arts and Crafts Family Show
Hershe Bar – Where the Girls Are
Baker's Market Spring 2015
Kitsilano Farmers Market
Richmond Night Market
International Night Market, Richmond
GO Fest Whistler
Walk With Your Doc Week, Vancouver Events
Power Of My People Pop-Up Shop at Scott Landon's Antiques
The West Fine Art Show

Monday, May 18, 2015 ~ Victoria Day
Victoria Day at Burnaby Village Museum
Victoria Day at Fort Langley
Jericho Arts Centre: James & Jamesy in High Tea
Richmond Night Market
GO Fest Whistler
The West Fine Art Show
Tuesday, May 19, 2015
Arlene Dickinson and David Chilton live in Vancouver
RED Academy Info Session at Portside
Rockaoke Live at The Railway Club
Asian Heritage Month Walking Tours
Jericho Arts Centre: James & Jamesy in High Tea
Wednesday, May 20, 2015
The Ways of Water: Surrey Schools Secondary Choral Festival
Getting Un-Stuck – The Work of Byron Katie
Randy Bachman with the VSO
Kids in the Hall at the QE Theatre
Havana Theatre: In A Forest, Dark and Deep
Empowering Children in the Face of Stress
Time for Wine – Painting pARTy
Langley Community Farmer's Market
Revolver Theatre Festival
Jericho Arts Centre: James & Jamesy in High Tea
Thursday, May 21, 2015
Sponsored by Miss604: Surrey Children's Festival
Arts Umbrella Dance Company Season Finale 2015
North Vancouver: The Boat Show Exhibition (Reception)
Baubles for Banting Gala Fundraiser
Wine Down! Speed Dating + Vino (Ages 28-38)
Wine Down! Speed Dating + Vino (Ages 37-48)
The Juice Truck x Native Spring Fling
Vancouver+Acumen presents DIGNITY 2015
#OpenSpaceShow Art Exhibition and Launch
Beauty For A Cause 2015
Live Comedy at Jack's Public House
The Kettle Society 12th Annual Making a Difference Luncheon
DigiBC Presents NEXTBC 2
Asian Heritage Month Walking Tours
Naked Girls Reading presents Girls Gone Oscar Wilde
ART! Vancouver
Yaletown Farmers Market
Jericho Arts Centre: James & Jamesy in High Tea
Havana Theatre: In A Forest, Dark and Deep
Revolver Theatre Festival
Friday, May 22, 2015
Sponsored by Miss604: Surrey Children's Festival
Sponsored by Miss604 Friday Night Late Night Movies at the Rio Theatre
The Legend of Zelda – Symphony of the Goddesses
Reverend Horton Heat at The Rickshaw
Free Documentary Screening at the Vancouver Police Museum
Kyle Bottom's Comedy Bucket
Spectacular Cabaret
Vancouver Chamber Choir presents: Pro Coro Canada (Edmonton)
Building for Change Symposium
Concert: From the North to the South
VanCAFÊTE Mega Fauna Book Launch and Pre-VANCAF Icebreaker
Richmond Night Market
International Night Market, Richmond
Shipyards Night Market, North Vancouver
Ole Originals Studio Sale
Asian Heritage Month Walking Tours
ART! Vancouver
Jericho Arts Centre: James & Jamesy in High Tea
Havana Theatre: In A Forest, Dark and Deep
Revolver Theatre Festival
Saturday, May 23, 2015
Sponsored by Miss604: Surrey Children's Festival
BC Veggie Day – Greenhouse Open Houses
TEDx Stanley Park
Museum of Vancouver Presents: Happy Hoopla: Family Festival
Love It. Lock It. Bicycle Safety Seminar in Surrey
#HeritageReboot Event
Terminal City Roller Girls Double Header
Velopalooza Bike Wash
Movies at Surrey Libraries
Building for Change Symposium
Vancouver Comic Arts Festival
Murder in the Manor – Murder Mystery Event at The Stage
Community Farmstead Day at Roedde House Museum
80s Zumba Dance Party
Elvis 68 The Show, Port Moody
UPCYCLED* Fashion Show by Frameworq
Trout Lake Farmers Market
Richmond Night Market
International Night Market, Richmond
Fort Langley Village Farmer's Market
Ole Originals Studio Sale
ART! Vancouver
Jericho Arts Centre: James & Jamesy in High Tea
Havana Theatre: In A Forest, Dark and Deep
Revolver Theatre Festival
Sunday, May 24, 2015
Iron Horse Bazaar, Maple Ridge
Woman2Warrior
Vancouver Sneaker Convention – Sneaker Freak
Chewies Oyster Bar & Bikers For Autism Present Shuck It Forward Fundraiser
Vancouver Comic Arts Festival
Women's Self-Defence Workshop Level 1
Ethos Collective Concert
Asian Heritage Month Walking Tours
Vancouver New Music: Spring Soundwalks
Baker's Market Spring 2015
Project Limelight: East Side Story
Kitsilano Farmers Market
Richmond Night Market
International Night Market, Richmond
ART! Vancouver
Jericho Arts Centre: James & Jamesy in High Tea
Havana Theatre: In A Forest, Dark and Deep
Revolver Theatre Festival

Monday, May 25, 2015
Board Games: Then & Now at the Anvil Centre, New Westminster
Man Talks
Gallery Piña Pop Up Shop
Blackbird Theatre Presents: Nathan the Wise by Gotthold Lessing
Havana Theatre: In A Forest, Dark and Deep
Revolver Theatre Festival
Tuesday, May 26, 2015
Sponsored by Miss604: YWCA Women of Distinction Awards
Gluten Free Brewmaster's Dinner
Urban Foraging at Trout Lake
Unique Lives: Shirley MacLaine
Rockaoke Live at The Railway Club
Boca del Lupo Presents: Big Bad
Vancouver Int'l Tequila Expo Events
Havana Theatre: In A Forest, Dark and Deep
Revolver Theatre Festival
Wednesday, May 27, 2015
Social Enterprise Heroes
Feeding the 5000 – Vancouver Lunch
Peak Performance Project: Top 12 BC Launch Party
Spectacle sur la Montagne Edition 2015
Blasted Church Cross Purposes Tasting
FUEL Forum: Future of Urbanity, the Environment and our Lifestyle
Langley Community Farmer's Market
Havana Theatre: In A Forest, Dark and Deep
Revolver Theatre Festival
Boca del Lupo Presents: Big Bad
Thursday, May 28, 2015
Vancouver International Bhangra Festival: City of Bhangra
After Hours at the Vancouver Aquarium
Shoes on Fourth Summer Bash
BC Producers Meet and Greet with Whole Foods Market
Builders' Breakfast Series: BC Hydro and New Home Labelling Programs
Circle of Life, A Special BC Jade Day Film Premiere
Steam Whistle Unsigned Indie Music Showcase
Yaletown Farmers Market
FUEL Forum: Future of Urbanity, the Environment and our Lifestyle
Boca del Lupo Presents: I Think I Can
Vancouver Int'l Tequila Expo Events
Havana Theatre: In A Forest, Dark and Deep
Revolver Theatre Festival
Boca del Lupo Presents: Big Bad
Friday, May 29, 2015
FIFA Women's World Cup Trophy Tour
Fun Fair at Sunnysde Elementary
Letters to My Grandchildren: Talk, Q&A, and Signing with David Suzuki
Alicia Tobin's Come Draw With Me
Bif Naked at The Rickshaw
Opening Reception: New Paintings by KATSUMI KIMOTO
Vancouver Bike Rave Warm Up Session (Trial Run for July's Actual Event)
City Soul Choir Presents: Jambalaya
TEDx Gastown Women
VIFF Presents: A Night of Iris Partnering with My Sister's Closet
Tod Maffin's Advanced Digital Marketing Boot Camp + Interactive Social Lab
Vancouver Craft Beer Week
Northwest Fan Fest, New Westminster
Richmond Night Market
Surrey Night Market
International Night Market, Richmond
Shipyards Night Market, North Vancouver
Havana Theatre: In A Forest, Dark and Deep
Vancouver International Bhangra Festival: City of Bhangra
Revolver Theatre Festival
Boca del Lupo Presents: I Think I Can
Boca del Lupo Presents: Big Bad
Saturday, May 30, 2015
Lynn Valley Day
Guildford Aquatic Centre Grand Opening
Enchanted Garden at Secret Garden Terrace, Coast Plaza Hotel
Autism Support Network: An Evening of Blues and Bites
Community Day at Playland
TELUS Days of Giving Vancouver Social Art Rally at David Lam Park
MEC Vancouver Bike Fest
F*ck Cancer Benefit w/ Lazy Rich and Lenno
Opening night #AzuzaDesign
Move for Hope at Robson Square
The Human Library at Surrey Library
Rise Up Singing! A Youth Choir Extravaganza
BC Buddhist Festival
Wonderland Fayre: Spring Family Festival, Squamish
Lace Up with Team Diabetes
StandUp4FSHD
Curious Flea Presents: The Bizarre, New Westminster
ArtStarts: Free Weekend Workshops for Kids and Families: The Art of Capoeira
Trout Lake Farmers Market
West End Farmers Market
Richmond Night Market
Surrey Night Market
International Night Market, Richmond
Fort Langley Village Farmer's Market
North Shore Art in the Gardens Tour
Vancouver Int'l Tequila Expo Events
FIFA Women's World Cup Trophy Tour
Havana Theatre: In A Forest, Dark and Deep
Vancouver Craft Beer Week
Northwest Fan Fest, New Westminster
Vancouver International Bhangra Festival: City of Bhangra
Revolver Theatre Festival
Boca del Lupo Presents: I Think I Can
Boca del Lupo Presents: Big Bad
Sunday, May 31, 2015
Vancouver Veg Expo
BLIM Market at Heritage Hall
Annual Heritage Homes Tour & Tea, New Westminster
Brain Food Speaker Series at The Chan Centre
BC Children's Hospital Foundation: ChildRun
Fair in the Square – Victory Square
Vancouver New Music: Spring Soundwalks
ArtStarts: Free Weekend Workshops for Kids and Families: The Art of Capoeira
North Shore Art in the Gardens Tour
Kitsilano Farmers Market
Richmond Night Market
Surrey Night Market
International Night Market, Richmond
FIFA Women's World Cup Trophy Tour
Vancouver Craft Beer Week
Northwest Fan Fest, New Westminster
Vancouver International Bhangra Festival: City of Bhangra
Boca del Lupo Presents: Big Bad
» Back to Top «