EAT Vancouver, the largest festival of its kind in Canada, returns to BC Place — and beyond — April 26th to May 3rd. This 13th annual gastronomic feast for the senses features an expanded eight-day program with more than 35 collaborative workshops, dinners and events taking place throughout Vancouver before culminating in a three-day show at BC Place Stadium May 1st to May 3rd.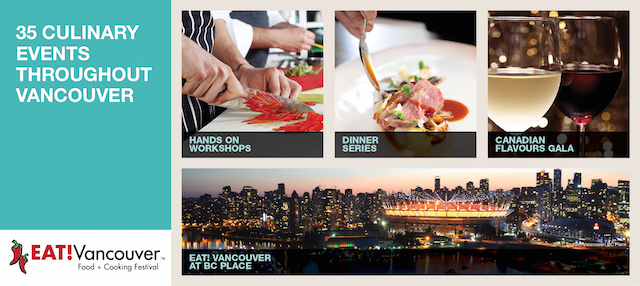 EAT Vancouver Dinner Series
Happening around Vancouver from April 28th to May 3rd, tickets for the Dinner Series events are on sale now, with some already sold out:
Hidekazu Tojo of Tojo's Restaurant welcomes Susur Lee, restaurateur/chef and former Iron Chef America competitor, Toronto, ON
Jackie Kai Ellis of Beaucoup Bakery & Café welcomes Toronto's Anna Olson, host of Food Network Canada's Bake With Anna Olson, at The Dirty Apron
Pino Posteraro of Cioppino's Mediterranean Grill & Enoteca welcomes Mark McEwan restaurateur/chef and Food Network Canada notable, Toronto, ON
J-C Poirier of Ask for Luigi welcomes Jérémie Bastien of Restaurant Leméac, Montreal, QC
Wesley Young of Wildebeest welcomes Jesse Grasso of The Black Hoof, Toronto, ON
Joel Watanabe of Bao Bei Chinese Brasserie welcomes Michael Caballo and Tobey Nemeth of Edulis Restaurant, Toronto, ON
Andrea Carlson of Burdock & Co. welcomes Connie DeSousa and Jessica Pelland of CHARCUT Roast House, Calgary, AB
Trevor Bird of Fable Kitchen welcomes Carl Heinrich of Richmond Station, Toronto, ON
Lucais Syme of La Pentola welcomes Nick Nutting of Wolf in the Fog, Tofino, BC
Angus An of Maenam welcomes Nick Liu of DaiLo, Toronto, ON
Chris Whittaker of Forage welcomes Andrew Winfield of River Café, Calgary, AB
EAT Vancouver Workshops
Thirteen workshops take place in several venues across the city from April 26th to May 1st, giving behind-the-scenes access to some of the city's hottest restaurants, markets and production facilities:
Baking at Home with Jackie Kai Ellis of Beaucoup Bakery & Café
Explore the World of Coffee with Grady Buhler of JJ Bean Coffee Roasters
Pizza Workshop and Gelatini Workshop with James Coleridge of Bella Gelateria
Fermentation Master Class with Jonathan Chovancek of Bittered Sling Extracts and Café Medina
Making Terrines at Home and For the Love of Bacon with John van der Lieck of Oyama Sausage Co.
Market Shop, Cooking and Lunch Experience with Pino Posteraro of Cioppino's Mediterranean Grill & Enoteca
An Evening of Bourbon & BBQ with Darryl Lamb of Legacy Liquor Store and The Belmont Bar
Cheese and Wine Workshop with Allison Spurrell of Les Amis du Fromage
The Art of Butchery with Sebastian Cortez of Sebastian & Co. Fine Meats
Kickoff to BC Spot Prawn Season with Robert Clark and Mike McDermid of The Fish Counter and Steve Johansen of Organic Ocean
Outlandish Shellfish Kitchen Party with Ned Bell of Chefs for Oceans and YEW seafood + bar, and Tim Bedford of Vancouver Aquarium
There's also a Hospitality Symposium at the Pinnacle Hotel in Downtown Vancouver on April 29th, a Pastry Tasting and Panel Discussion on April 29th, and the Canadian Flavours Gala on April 30th at the Terminal City Club.
All EAT Vancouver dinners and workshops, as well as the Canadian Flavours Gala and Hospitality Symposium, include a complimentary ticket to EAT Vancouver at BC Place.
EAT Vancouver at BC Place
The weeklong festival culminates with the biggest celebration at BC Place from Friday, May 1st until Sunday, May 3rd. Tickets are available now (or at the door) for under $20 and children 12 and under are free. This event features more than 250 exhibitors celebrating food, drink and cooking.
All-new programming takes centre stage, including: VIP Experiences; the "Talk & Taste" Stage; the Canadian Food Artisan Pavilion, sponsored by Edible Canada; the Craft Beer Alley, sponsored by the BC Craft Brewers Guild; an On-site Legacy Liquor Store; as well as appearances by luminary chefs such as Rob Feenie, Vikram Vij, Ned Bell, Anna Olson, Susur Lee and Mark McEwan.
Follow EAT Vancouver on Facebook, Twitter, Instagram and YouTube for more information.
EAT Vancouver 2015 Giveaway
I have an awesome EAT Vancouver and Cactus Club Cafe prize pack available for one lucky reader (and guest) that includes: 2 tickets to EAT Vancouver, VIP seating to see Rob Feenie (Canada's first Iron Chef America Champion) on the Celebrity Stage at EAT Vancouver, and a $100 gift card for Cactus Club Cafe. Here's how you can enter to win:
Leave a comment on this post (1 entry)
Post the following on Twitter (1 entry)
RT to enter to win a @EAT_Vancouver prize pack w/$100 for @CactusClubCafe from @Miss604 #EatBuzz http://ow.ly/LIG0q
I will draw one winner at random from all entries at 12:00pm on Thursday, April 23, 2015. Must be 19+. Please enjoy responsibly.
Update The winner is Jennifer Woodley!