Experience the thrill of a lifetime as you rappel 19 storeys down the side of Vancouver's third tallest building, the Shaw Tower, all for a good local cause. Dare to Leap's inaugural fundraiser in support of Outward Bound Canada's new Urban Youth Program takes place April 16th and there's still time to sign up, fundraise, and participate in this challenge.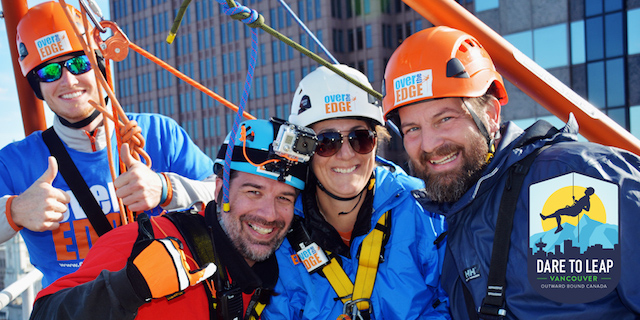 Dare to Leap
More than 60 inspired individuals, corporate teams and intrepid adventurers are invited to rappel 200ft. of the Shaw Tower in downtown Vancouver on Thursday, April 16, 2015. In addition to experiencing the thrill of a lifetime, "Urban Leapers" will be inspiring changes that reach far higher than their 200-foot journey. By raising funds for Outward Bound Canada's Vancouver Urban Adventure Programs, participants will be providing opportunities for disadvantaged youth to experience life changing, resiliency-building programs.
In 2010 Outward Bound Canada piloted its Urban Adventure Program Model, introducing thousands of at-risk urban youth to exciting and adventurous challenges right in their local urban neighbourhoods. The Urban Adventure Program was launched in Vancouver through partnership with local school boards and has introduced over 500 disadvantaged youth to the incredible wilderness over the past year.
For those interested in the ultimate adventure, there is still time to register for Dare to Leap or pledge funds to a participant. Registration is $100 and if you raise an additional $900 you will be able to participate in the event. For those wishing to cheer on the brave participants, there will be a viewing area at the entrance to the Shaw Tower, along with music, events and activities throughout the day on April 16th.
Follow Outward Bound Canada on Facebook and Twitter for more information.
Update Before Dare to Leap
I had the chance to take some photos from the 20th floor, where participants will be starting their descent tomorrow in support of Outward Bound! Here's the view:
Best of luck to all of the participants and thank you for supporting Outward Bound Canada!