The best part about a glass of wine is that it can be enjoyed in almost any setting. On a sunshine soaked patio with friends, at a multi-course pairing dinner, or sitting on the couch while binge watching your favourite series. The latter is the focus of a new campaign partnership between Woodbridge by Robert Mondavi Wines and Miss Vickie's potato chips. They are encouraging you to #UnwindTogether by pairing some of their varieties and flavours for a chill night of comfort and entertainment at home.
Wine and Chip Pairings
Woodbridge and Miss Vickie's sent me a box of four wines and four flavours of chip, here were their suggestions:
Cabernet Sauvignon + Original Recipe
Woodbridge by Robert Mondavi's Cabernet Sauvignon has rich berry aromas that give this wine a delicious full body. When coupled with the unique crunch and toasty finish of Miss Vickie's Original Recipe potato chips. TV Pairing: Action.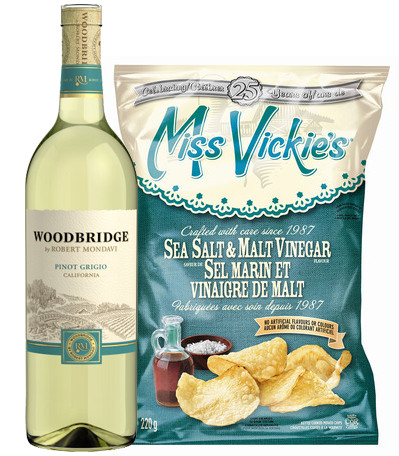 Pinot Grigio + Sea Salt & Malt Vinegar
The crisp nectarine and peach flavours of Woodbridge by Robert Mondavi's Pinot Grigio, together with the tangy and refreshingly acidic balance of Miss Vickie's Sea Salt & Malt Vinegar potato chips, make for a pairing perfectly suited to relaxing. TV Pairing: Reality TV.
Sauvignon Blanc + Lime & Black Pepper
The crisp and bright tropical notes of Woodbridge by Robert Mondavi's Sauvignon Blanc create an explosion of flavour when sampled with Miss Vickie's Lime & Black Pepper potato chip. TV Pairing: Drama.
Merlot + Balsamic Vinegar & Sweet Onion
Woodbridge by Robert Mondavi's Merlot has bright, fruity flavours that come alive when paired with the tangy sweetness of Miss Vickie's Balsamic Vinegar & Sweet Onion potato chips. TV Pairing: Comedy.
Our Favourite Pairing
John and I spent some quality time on the couch watching everything from Motive, Anthony Bourdain's Layover and The Amazing Race, to Stripes and Fever Pitch (the 1997 version with Colin Firth). Our cups full, our chip bowl overflowing. The result: You can't go wrong with the Original Recipe and the Cabernet Sauvignon, but our standout favourite was the Pinot Grigio with the Sea Salt & Malt Vinegar chips. The citrus notes in the wine played off the vinegar, toning it down and creating a balanced sip.
Deals in March and April
This month, BC Liquor Stores, select BC independent wine shops, and independent liquor stores in Alberta and Manitoba are all providing a free bag of Miss Vickie's potato chips with a Woodbridge purchase. In April, the gift with purchase promotion continues in British Columbia only, along with a $2.00 off coupon neck tag in BC and Saskatchewan.
Win a Woodbridge #UnwindTogether Prize Pack
Woodbridge and Miss Vickie's have offered up this pairing opportunity for a Miss604 reader to experience. The bundled prize pack includes 4 bottles of wine, 4 bags of chips, 2 wine glasses, a glass bowl, and a cozy blanket. Here's how you can enter to win:
Leave a comment naming the pairing you most look forward to trying (1 entry)
Post the following on Twitter (1 entry)
RT to enter to win a @Woodbridge_Wine + Miss Vickie's #UnwindTogether prize pack from @Miss604 http://ow.ly/Kygwi
I will draw one winner at random from all entries at 12:00pm on Wednesday, March 25, 2015. Must be 19+. Please enjoy responsibly. Follow Woodbridge on Facebook and Twitter for more information.
Update The winner is Jeanie!