VIVA Vancouver's summer campaign that creates vibrant pedestrian spaces around the downtown core is currently hosting their 2015 Robson Redux design competition. Last summer we ate our food truck fare on the Urban Reef, before that we had the Pop Rocks loungers, PICNURBIA, and a cedar plank patio along the 800 block of Robson.
The theme of the competition is connection: people's connection to one another and to urban space and VIVA Vancouver received over 80 local and international entries, some from as far away as Hong Kong, New York, Seoul, and Vienna. People's choice voting for the 2015 installation is now underway, here are some of my favourite designs that have been put forward so far: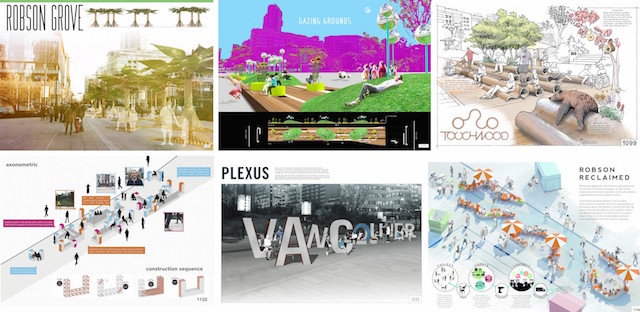 Robson Grove, Gazing Grounds, Touchwood, #icu, Plexus, Robson Reclaimed
All of the designs look pretty great but I chose these because I know that people will congregate, sit, eat lunch, and chill on this installation all summer. It shouldn't be too high so that people can watch street performers — on both sides — and, based on previous years, they seem to go with minimalist designs with a unique twist. I'm looking for something that's more than a park bench, will be safe to use, very stylish, comfortable, and striking!
Vote for Robson Redux 2015
Take a look at the entries yourself and vote by visiting the Robson Redux website gallery, clicking on a submission, and rating it using 1 to 5 stars. Voting closes March 15, 2015. Like last year, a jury will select a single winning team to design, build and install a temporary public space installation for summer 2015.