The 49th annual broadcast of Variety's Show of Hearts Telethon is happening this weekend and we invite you to tune in to Global, join in the fun online, and donate to help children in BC who have special needs.

New This Year
Social Lounge: For the very first time, I'm sponsoring the "Show of Hearts Social Lounge" in the VIP room, bringing in some of my social media friends to share the stories of Telethon with our followers. Video and Selfie booths will capture the excitement of the event and you can join the conversation by using #SOH2015, @VarietyBC and @Miss604.
Other new additions to the telethon this year include the Champions Pledge. By signing up for a Champions Pledge of $2,500 or more, you can help Variety help more families in BC make their vans wheelchair accessible. Families can go together in safety and comfort to doctors' appointments and engage with events in their communities. In thanks for your support you will receive a framed, special edition poster by renowned Canadian artist Robert Bateman – watch the Telethon to see this year's beautiful creation entitled "Siberian Clearing".
Little Victories Circle: Whether it's a first step or a first word, every achievement by Variety's kids is epic, and you can help them be the champions we believe they are. For a donation of minimum $25 a month, we invite you to join the Little Victories Circle (formerly known as Monthly Giving) and make a difference all year long. In thanks for your continued support, you will receive a Variety Bear, and a child who has special needs will also receive one.
Siberian Clearing by Robert Bateman: This is the 11th year that world-renowned naturalist and artist Robert Bateman has created a painting for Variety's Show of Hearts Telethon. For a pledge of $189 or more, donors will receive a poster of "Siberian Clearing" which depicts a mother tiger and her cub in a snowy landscape.
BC Place Glows Red for Variety BC this Saturday and Sunday night, and Global BC is curating a live blog of #SOH2015 conversations online.
Chances to Win
Find out how you can enter the Show of Hearts Car Giveaway, and the St. Lucia Dream Vacation Lottery when you tune in to the 49th annual Variety Show of Hearts Telethon on Global BC February 14th and 15th.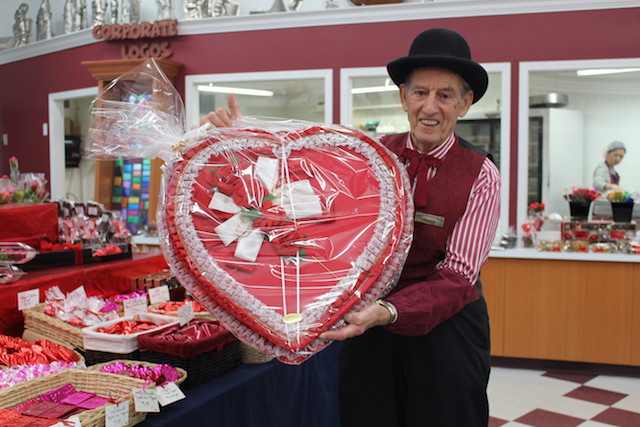 Charlie's Chocolate Factory in Burnaby has also donated a chocolate gift basket valued at $200! I have the pleasure of giving this away over Twitter this weekend. Simply post an update to Twitter that includes #SOH2015, @VarietyBC and @Miss604 and you'll be entered to win. You can also paste the following on Twitter:
RT to enter to win a Charlie's Chocolate Factory gift basket in support of @VarietyBC #SOH2015 via @Miss604
Get set for an inspiring weekend – #SOH2015 is here! Feb 14 & 15 on @GlobalBC
Celebrate amazing kids with special needs with @VarietyBC #SOH2015 Feb 14 & 15 @GlobalBC
I will draw one winner of the gift basket from all entries at 4:00pm on Sunday, February 15, 2015. Enjoy the show and make a donation to help more children in BC achieve their own little victories!