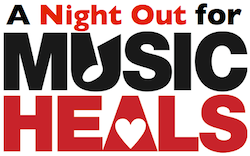 The bar and nightclub industry will join together to support music therapy efforts in Canada during the 4th annual A Night Out for Music Heals, happening in over a dozen cities across Canada on March 7th. When you head out to one of over 40 participating venues, $1 from your cover will go directly to Music Heals.
Alongside Executive Director of Music Heals, I caught up with Mo Tarmohamed, owner of The Rickshaw Theatre to talk about The Rickshaw's very special offering for A Night Out for Music Heals this year.
A Night Out for Music Heals at The Rickshaw
Located on East Hastings, just off Main Street in the Downtown Eastside, The Rickshaw seems to automatically have an edge. "One of the things that this place has been known for, and has been home to, is punk and metal shows," Mo explained as he, Chris, and I walked past rows of theatre seating down onto the inclined floor space in front of the stage. But while metal and punk has been The Rickshaw's "bread and butter", its great sight lines, professional staff, lighting options, and 500+ capacity have made it an ideal venue for many acts, both local and international.
"We didn't want to be known strictly as a niche venue so we've really opened it up and had quite a diversity of musical genres. Even last week, Tuesday we had Napalm Death a metal band, then on Thursday we had R&B/soul, on Friday we had punk, on Saturday we had world beat music." With the diverse range of artists playing sold out shows for audience with a demographic with ages of 19 to 65, Mo said he often sees people act surprised that The Rickshaw existed — and that they haven't been there before.
Crossing back through the lobby, with walls covered in posters and notices for upcoming shows, we made our way up to the balcony and Mo pointed out a few more lighting and effects features available at the venue.
"We've hosted bands that are on the upward trajectory, like last year we had two sold out shows for War on Drugs — Future Islands played her last year and this year they're playing at Malkin Bowl. So we're catching bands that are just in the process of blowing up but then we also get some of those legacy bands." DOA, Mudhoney, Human League, Concrete Blonde, have all played The Rickshaw recently and coming up they are hosting the likes of Wishbone Ash and The Rezillos.
The Rickshaw has also become a coveted stage for local performers. "They play at places like Funky's and The Astoria, but getting on stage at the Rickshaw is a special notch on their belt. It just makes them feel like they've arrived — or are arriving — and they get the full rockstar treatment."
"Mo made a reason to come out on a night that was otherwise an empty night."
– Chris Brandt, Music Heals
With that commitment to the local music scene, it's no surprise that The Rickshaw has signed on for A Night Out for Music Heals. "Mo specifically created the show when I sent the first email," Chris said as we all looked down at The Rickshaw stage from above.
"He said, 'we don't have anything that night, so I'll make something that night'. That differentiates what The Rickshaw is doing. There was nothing here on the 7th and Mo went and created something." Chris said that while all participants are appreciated, it's harder for a live venue to throw their support behind a cause like A Night Out for Music Heals since the contribution has to come out of someone's pocket, whether that be the promoter, the venue, or the band.
"When Mo reached out to everyone, they were all in with the full understanding that a buck from every cover was going to be going to charity. So, that's a whole other level of emotional investment from the bands and the venue, which is amazing."
Acts that will play The Rickshaw on March 7th for A Night Out for Music Heals are Spoon River, Sh-Shakes, Eric Campbell & The Dirt, The Wandering Halls, Random Dander. Tickets are $11 in advance, $9 at the door. No service charges on tickets bought at Red Cat, Neptoon or Dandelions. $1 from your ticket will go to Music Heals, all you need to do is purchase one.
The Music Heals Charitable Foundation helps raise awareness of the healing powers of Music and fundraises to increase access to Music Therapy for patients in children's hospitals, senior's homes, palliative care, AIDS & HIV programs, bereavement, and more. Music Therapy is the skillful use of music and musical elements by an accredited music therapist to promote, maintain, and restore mental, physical, emotional, and spiritual health. Follow Music Heals on Twitter and use the tag #NightOut4MH for updates.