Working with the Mount Pleasant BIA over the years, visiting over 20 businesses each season for fun community promotions, I've walked up and down, from 18th to 7th, from Kingsway to Quebec, and one thing that always resonates is the unique passion that each business owner and organization member has for their neighbourhood. When it comes to Valentine's Day – whether you're searching for that perfect gift or experience, chances are you'll find it in Mount Pleasant.
5 Valentine's Day Gifts from Mount Pleasant
1. French Made Baking's macarons are the macarons that put Vancouver on the macaron map, if indeed such a map existed. For Valentine's Day you can pick up a box of sweet and chewy heart-shaped macarons for your special someone but be sure to get there fast as they are bound to sell out. French Made Baking is also participating in the Vancouver Hot Chocolate Festival so if you're not just popping in to pick up a treat, stay a while and enjoy 4 unique hot chocolate concoctions.
2. Looking for a more savoury treat? Rosemary Rocksalt is serving up heart-shaped bagels with pink rocksalt, $10.95/dz. Place order by end of day Friday the 13th by calling 604-874-4570 to guarantee your dozen.
3. For truly locally-inspired gifts Bird on a Wire and Much & Little are your go-to shops. Find everything from cotton towels, hand-forged scissors, silk dresses, soy candles, and dinner ware at Much & Little. Bird on a Wire carries products for him, her, baby, home and more. You'll love their paper goods, scents from the Vancouver Candle Company, and crafter classes.
4. The Brewery Creek Liquor Store has everything you need for a spirited Valentine's Day with well over 800 craft brews from local and global standouts, a top notch selection of BC wines and bubbly, hard-to-find products, craft Vodkas and Tequilas with an ever-growing selection of Rums, Ryes, Bourbons, Single malt and Vatted-malt Scotches, as well as Blended Scotches, Irish Whiskeys, Gins, Brandy and Cognacs.
5. Brunch it up! Mount Pleasant has so many incredible brunch spots from The Wallflower and Thyme to Indulge, to Caffee Rustico and Burgoo. Treat your sweetheart to hearty comfort foods or elevated, inspired cuisine with a cup of locally roasted coffee to start your day on the right note.
The Independent at Main
In the heart of all of this lovable neighbourhood, The Independent will grow, consisting of five architecturally distinct buildings, inspired by the building palate of Mount Pleasant.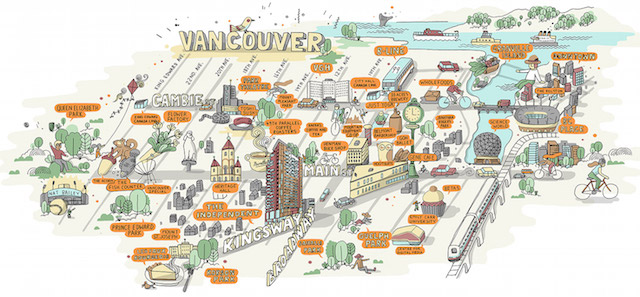 It offers unmatched views, urban agricultural areas, over 300 bicycle parking stalls, dog run space and dog wash area for grooming, a fitness room, a workshop room with bike repair area, and more. Choose from many different suites types, from studios to 3 bedroom condos to suit the many different needs of those moving into this unique community — from young families, to single urban professionals, to downsizing couples. It's close to the B-Line, Downtown and cross town buses, and the 10th Ave and Ontario bike lanes.
Opening previews for The Independent at Main start on Saturday, February 14, 2015 at the Sales Centre on the corner of Main and Broadway. Stop by to find out more and enjoy FREE snacks from Roaming Dragon food truck from 12:00pm to 5:00pm.
Beginning February 14th the Sale Centre will be open from 12:00pm, to 5:00pm every day except Friday.