#SingItFwd is a local charity concert like no other, bringing together renowned acts for an acoustic evening to raise funds for Saint James Music Academy in Vancouver's Downtown Eastside. This year's lineup, presented by 102.7 The Peak and The Vogue Theatre on January 8th, includes K-os, Hey Ocean!, July Talk, Harpoonist & The Axe Murderer, Frazey Ford, Bear Mountain, Dear Rouge, Jordan Klassen and Bend Sinister. Selling out each year, proceeds from #SingItFwd benefit the Saint James Music Academy ("SJMA").
#SingItFwd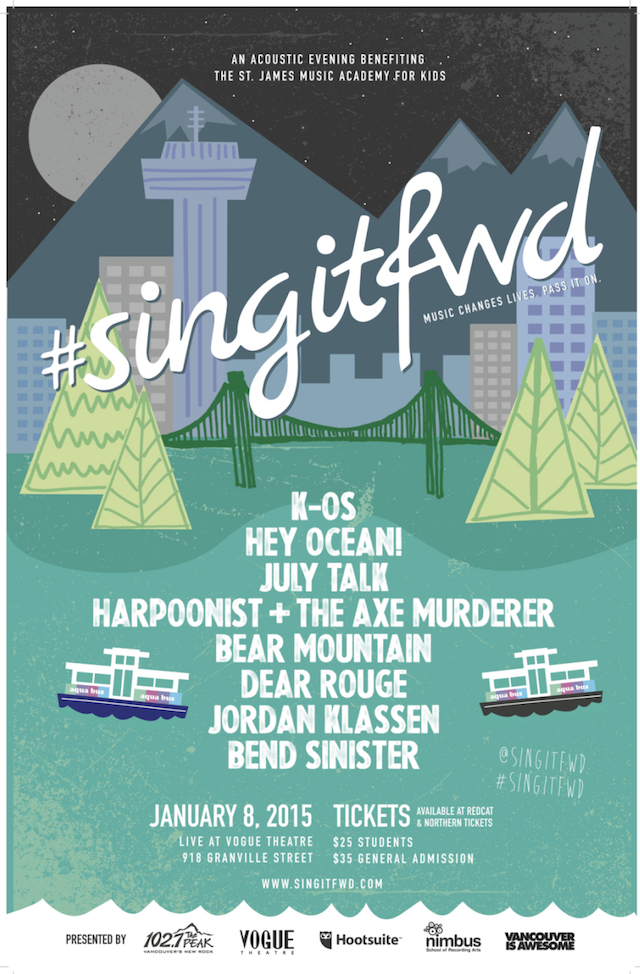 Over the past three years these showcases have contributed over $100,000 to Saint James, which offers high quality music instruction in Strings, Woodwinds, Brass, Percussion, Choir and Orchestra to children living on Vancouver's Downtown Eastside at no cost to students' families.
Saint James provides "social change through music" five days a week to just under 200 children, including daily meals and ongoing social support including music therapy.
This year #SingItFwd aims to raise an additional $40,000 to not only help fund and support the programs at the SJMA, but also to help the school work towards its goal of securing their own facility for the 2016 school year.
Co-founded in 2011 by David Vertesi (Hey Ocean!) and Ambrosia Humphrey (VP Talent for HootSuite Media Inc.), #SingItFwd was born from a shared desire to take action and build a stronger local musical environment by connecting with, and mobilizing, their own communities.
Where: The Vogue Theatre (918 Granville Street)
When: Thursday January 8th, 2015. Doors at 6:00pm, show at 7:00pm.
Tickets: All ages. $25 students or $35 general admission. Tickets available via Northern Tickets or at RedCat Records.
You can still contribute to Saint James through an online donation even if you cannot attend #SingItFwd. Follow on Twitter and Facebook for more information.