There's a warm fuzzy feeling you get when you visit a restaurant with a caring chef who uses the very best ingredients, he or she takes the time to tell you what went into the cooking process, and they beautifully present a delicious meal. You can tell when someone takes pride in what they do and has a passion for it. I got that same feeling when John and I visited Ella Shoes and met co-owner Jenny Rodriguez last fall.
Jenny, who runs the business with her husband Jorge, personally walked me through the entire store to show me their styles — from sandals, boots and pillowy walking shoes to the most piercing stilettos — and she could tell me about every shoemaker, the type of material used, the process of how they were hand crafted, and which styles were even made from recycled material. The shoes I ended up purchasing also have a fully detailed sustainability report available online.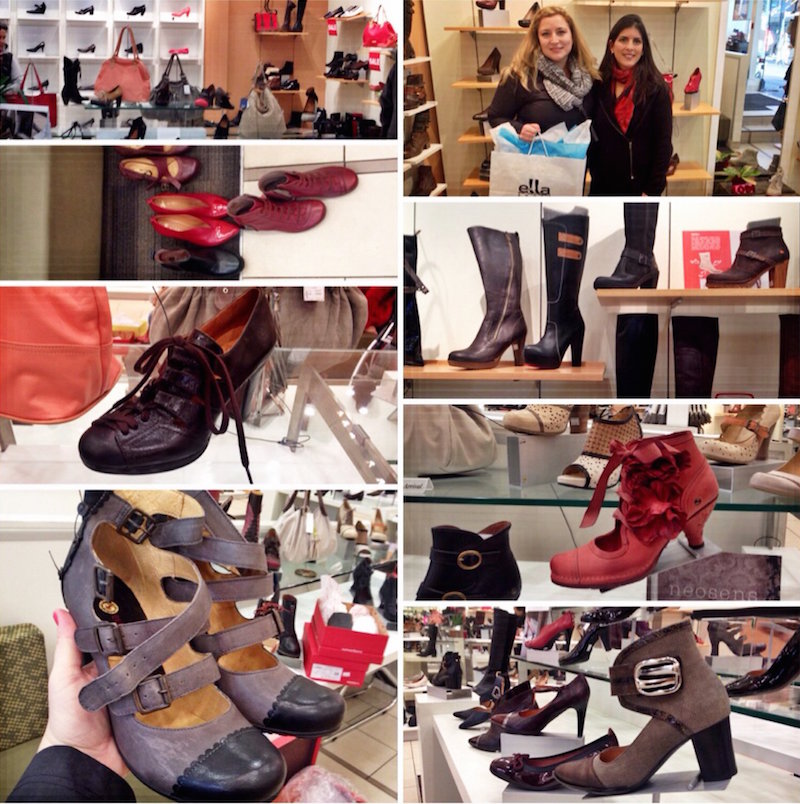 Jorge's family has been in the shoe business for a long time, and he joined in at age 14. Originally from the Dominican Republic, his father manufactured of footwear and imported popular European brands, particularly from Spain. Jenny, originally from Cuba, met Jorge in the Dominican Republic. The couple married in 1996 and honeymooned in Canada, where they fell in love with the West Coast and emigrated in 2009 with their four children, calling Vancouver home. As they began looking at local business opportunities they saw a need for affordable fashion choices in quality footwear.
Ella Shoes first opened their flagship location on south Granville Street as well as a smaller store in Park Royal Mall in West Vancouver in 2010. Their downtown location opened in 2012 and in the summer of 2014 they opened a new location in Metropolis at Metrotown. You can visit them today at 640 Granville, between Georgia and Dunsmuir, or at Metrotown.
Ella Shoes has a simple goal: To operate beautiful boutiques that provide the very best in European footwear designs and first class service in store and online.
The El Naturalista shoes I picked up in the fall have turned out to be the most comfortable heels I've ever worn. They look good with jeans, with a dress, and my feet feel great even after I take them through the trails of Stanley Park for 3 hours. I love them so much that John even got me a gift card to Ella for my birthday last week.
Ella Shoes Giveaway
See the beauty and quality of Ella's styles for yourself as Ella Shoes Canada has generously offered up a $300 gift code for one lucky Miss604 reader to purchase a pair of Ella Shoes online or in store. To top that, they are also letting you nominate a friend who will ALSO receive a $300 gift code. In total you can enter to win $600 in Ella Shoes for you and a friend to split! Here's how you can enter to win:
Leave a comment on this post naming a style/brand that Ella carries (1 entry)
Share, like, or comment on this Facebook post naming who you nominate for the other half of the prize (1 entry)
Share this image on Instagram tagging @EllaShoesCanada @Miss604 and #TellElla the friend you are nominating for the other half of the prize (1 entry)
Post the following on Twitter (1 entry)
RT to enter to win $600 for you and a friend to spend on @Viva_EllaShoes from @Miss604 http://ow.ly/HbPNB
Follow Ella Shoes Canada on Twitter, Instagram, and Facebook for more information about their shoes, styles, and locations.
I will draw one winner at random from all entries at 12:00pm on Thursday, January 22, 2015.
A one time use $300 discount code will be provided to each winner (the Miss604 winner and their friend) and will be redeemable nation-wide at www.ellashoes.ca or in Vancouver store locations. The discount code will be redeemable for one pair of shoes valued at $300 or less and in-stock. If the total value of the goods is over $300, the discount of $300 applies to the total value of goods. The code is not redeemable for cash.
Update The winner is @Poetall on Instagram!