by

Disclosure: Sponsored Post

— Views expressed in this post are my own. I would like to thank Rogers Communications for organizing the trip to use Roam Like Home. With Roam Like Home, Rogers customers can use their Share Everything plans (data and unlimited talk and text) in the U.S. for just $5/day. Please review the Policy & Disclosure section for further information.
Vancouverites tend to flock to several warm-weather destinations south of the border and Palm Springs is certainly one of the popular choices. John and I recently had the opportunity to get away, thanks to Rogers Communications, and the Palm Desert was calling our name. Resort spas, cocktails, brunch, and shopping were all on our list of things to enjoy but at the very top was a nature walk (or two) since near home our favourite activity is to take an afternoon walk through the inner trail network of Stanley Park, connecting with the place around us. When visiting Palm Springs, there are many hiking options but one of the most celebrated and world renowned is Joshua Tree National Park.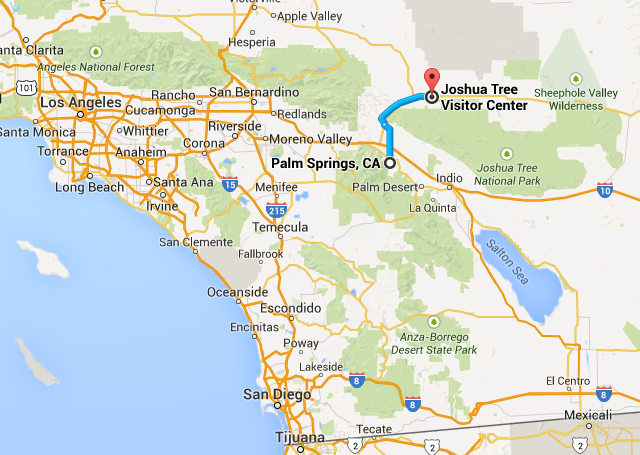 It's a 45 minute drive from Palm Springs to the Visitor Centre in Yucca Valley. We popped in there to grab a map and to talk to park staff about their recommendations for first-timers to the area. They get all levels of explorers in there, from young families with strollers to climbers with ropes and carabiners.
Background: Humans have occupied the area encompassed by Joshua Tree National Park's nearly 800,000 acres for at least 5,000 years. The first group known to inhabit the area was the Pinto Culture, followed by the Serrano, the Chemehuevi, and the Cahuilla. In the 1800s cattlemen drove their cows into the area for the ample grass available at the time and built water impoundments for them. Miners dug tunnels through the earth looking for gold and made tracks across the desert with their trucks. Homesteaders began filing claims in the 1900s. The park protects 501 archeological sites, 88 historic structures, 19 cultural landscapes, and houses 123,253 items in its museum collections. After the area became a national monument in 1936, local and regional residents were the primary park visitors. Joshua Tree was elevated from national monument to national park status in 1994.
The Hidden Valley Trail and the Barker Dam Trail (1 – 1.3 miles each) were the top picks for us, which were both hour-long nature walk loops. From there, you could escalate your walk and do a 3 mile – 7 mile hike, with elevation gains of 300 ft. We stuck with the two trail loops suggestions and made our way up the road to the park entrance to pay our day pass fee ($15, which was valid for 6 days).
Joshua Tree National Park Photowalk
Some tips when visiting Joshua Tree:
Stop into the Visitor Centre. Even if you did research online like I did, talking to park staff was very helpful.
Come prepared for any type of weather. We were ready for a scorching afternoon in the sun (sunscreen, hats, water) but once we reached the trail it was only 10C in the shade so we had to bundle up. Temperature changes of up to 40 degrees within 24 hours are not uncommon.
Dogs are allowed in the park but they must be on a leash at all times and cannot be more than 100 feet from a road, picnic area, or campground.
Prepare for all kinds of terrain. Some parts of the trails look wide and flat but they are also tough to walk on, the sand is loose and soft like walking on a beach. At other times you'll be climbing up and down large boulders.
For more information, follow Joshua Tree National Park on Twitter and Facebook, and check out all of my travel photos on Flickr and Instagram @Miss604.