Chimp a local Vancouver company that empowers people and organizations to manage and amplify their charitable impact.
Used by individuals, groups, companies, and charities, Chimp allows you to host an online account from which you manage donations to your favourite charities or give the gift of a cause neutral charitable contribution to friends, family, and colleagues.
How Chimp Works
When you deposit money into your Chimp account, you receive a tax receipt immediately. The funds can then be given away or simply saved to give another day. If you're familiar with charitable lingo, your Chimp Account is like your own private foundation, or you can think of it as a savings account for charity.
You can give to any registered charity in Canada with Chimp, and you can choose whether you wish to remain anonymous. You can also support a group that's raising funds for a good cause by contributing to their Giving Group.

Give the gift of giving. Send a friend a gift of charitable dollars through Chimp, and let them decide the recipient. Your friend does not need to have a pre-existing Chimp Account; they'll receive a personalized invitation to claim your gift, and can give it through Chimp to whatever cause they care most about.
Chimp lists every registered charity in the country and they display public data (from the Canada Revenue Agency) for each organization on our Charity Pages. This helps users research their giving options, and learn more about organizations working in their area of interest. Charities will receive any gift a Chimp user makes to them through Chimp. They don't have to sign up to receive this money.
Chimp's customizable and automated matching technology makes it simple for companies to empower employees, customers, and community members to give to what they care about. Companies can match contributions to personal Chimp Accounts, or they can match any gift to a charity or Giving Group they want to support.
How I've Used Chimp
I had funds in my Chimp account which I recently used to contribute to my Covenant House Sleep Out campaign, which raised over $4,100 for their work with at-risk youth in Vancouver.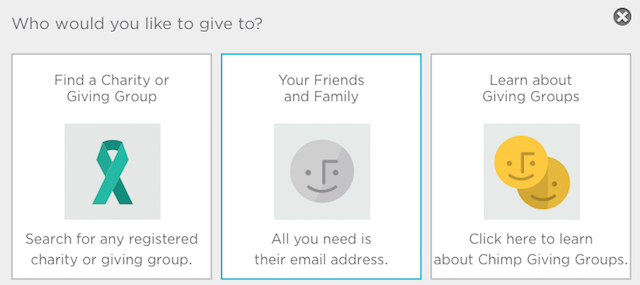 I simply logged in, clicked on "Give Money", found Covenant House Vancouver on the list of charities, and within a few more clicks of the mouse the funds were off.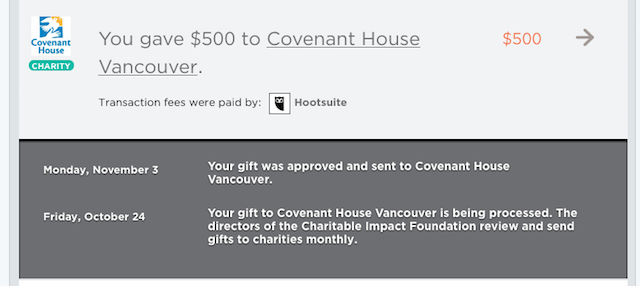 Until December 31, 2014 another local company, Hootsuite, is covering fees on gifts to charities. This means that more of the money you give through Chimp goes to the charity of your choice.
Chimp Charitable Giving Giveaway
I have $80 in my Chimp account right now that I will be giving away to a Miss604 reader, to empower them to support the cause of their choice. Here's how you can enter to win:
Leave a comment (1 entry) with the name of the cause you would support (optional)
Post the following on Twitter (1 entry)
Support the cause of your choice! RT to enter to win $80 in a @wearechimp account from @Miss604 http://ow.ly/FZUdP
You can use your gift to support any registered Canadian charity via Chimp and $80 can go a long way with many organizations, providing meals and supplies for dozens of people, or you can pay it forward and help a friend who currently has a donation campaign going for a charitable fun run or event. There are many possibilities!
Follow Chimp on Twitter and Facebook for more information about their powerful giving tools. I will draw one winner at random from all entries at 12:00pm on Thursday, December 18, 2014. The winner will receive the $80 prize via a direct Chimp account in their name for which they can then use to support the cause of their choice.
Update The winner is Shirley!