Downtown Surrey is the place to be next week as the Surrey Tree Lighting Festival lights up City Hall Plaza and just days before, the Santa Window Walk invites all to celebrate local businesses and charities.
Surrey Santa Window Walk
Where: Participating Businesses along King George Boulevard, North of 104th
When: Thursday, November 20, 2014 from 11:30am to 1:30pm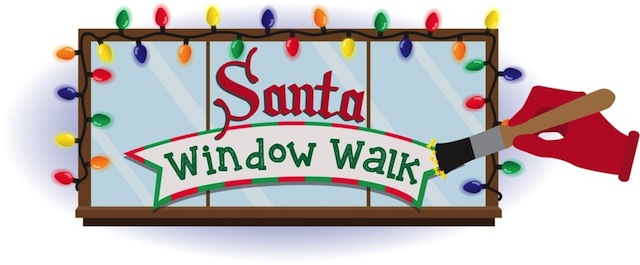 Teams of students from local high schools will paint a holiday design on the windows of local businesses. These designs will represent a local charity which will also be stationed in front of these businesses during the Santa Window Walk. Participants include Surrey Food Bank, Umoja, The Child Development Foundation, Night Shift Ministries, Surrey Christmas Bureau, Girl Guides, Kinsman Lodge, Surrey Hospice Society, Harmony House, Surrey Animal Resource Centre, Surrey Urban Mission, Beneath One Sky, and Pacific Community Resource Society.
This year the windows of TD Bank, Round Up Café, Labour Unlimited, KFC, Church's Chicken, Jiffy Cleaners, Al's Vacuum, Westland Insurance, Pharmasave, Enterprise, Whalley Optical, Surrey Urban Mission, the Canadian Post Office, and Rave Re-up will all receive a window make-over from students from Sullivan Heights, Fleetwood Park, Fraser Heights, Night Shift, Frank Hurt, Southridge and Earl Marriot.
Everyone is invited to participate in this self-guided tour while lively holiday music plays and you get to explore local shops and services. Play the lollipop pull at the Christmas Bureau's window or try some tasty baked goods from Harmony House.
Pick up a ballot at each stop, collect as many as you can, and drop them off at the Dell Shopping Centre (10650 King George Boulevard) by 1:30pm on November 20th for your chance to win some great holiday prizes.
For more information follow the Downtown Surrey BIA on Facebook and Twitter. Click here for a full PDF map of participating locations.