TELUS and Optik TV's STORYHIVE is funding content creators in our community through two campaigns in 2014. The first in the spring awarded $200,000 in production funding and another ends on December 1st, awarding 15 $10,000 grants in BC and 15 $10,000 grants in Alberta, plus two $50,000 grants to produce and distribute a full web series.

STORYHIVE Web Series Competition
STORYHIVE is a community-powered funding program where content creators can get the funding and distribution they need to bring their projects to the screen. Local creators from British Columbia and Alberta apply for grants to produce a pilot and the community votes to decide which projects get funding and distribution on Optik Local via TELUS Optik™ TV On Demand.
As the winter deadline draws near, I've had a few participants send me their campaign information:
Alannah Turner is one of the participants (My Grade 8 Diary) who was first drawn to the initiative because of its crowd-powered foundation.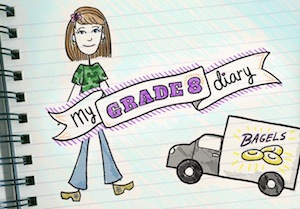 "You have to plan, pitch, get your information out, connect with your audience and ramp up support by yourself; it is challenging but it lays the ground work for a successful show. I have made a web series before and used crowd funding to produce it. I appreciate the process."
Turner's background is in theatre but fell in love with storytelling and wanted to start writing her own tales.
"Vancouver is truly a 'make your own work' friendly city. However, funding is more often than not the downfall of many brilliant projects. The passion projects move down on the list to make time to do the work that pays the bills. The project is like that for me. I have been waiting for the right time to make it. When I heard about STORYHIVE it was like a big green light blinking at me saying 'you can make this show! and PAY everyone!'"
The STORYHIVE model relies on fan votes and so far Turner is finding the most traction through Facebook promotion, however Twitter is also driving clicks and views from around the world. Back at home, Turner is probably not alone in expressing appreciation for the local funding initiative.
"There are thousands of web series out there. It is hard to know which ones to pay attention to. Look at Orange is the New Black, or House of Cards. Both are web series. Why do we know they are worthy of our time? The have the seal of approval from a major distributor. STORYHIVE is giving local filmmakers the chance to have their work elevated to a higher level."
Another bonus of potentially being awarded a STORYHIVE grant is that you don't just get funding, creators get partnered with mentors who will guide them through the ins and outs of the web series industry. Turner says that STORYHIVE is setting participants up with the tools they will need to succeed.
The deadline to help out your favourite project is fast-approaching so take a look at STORYHIVE and cast your vote for your favourite web series pitch until December 1 at 11:59pm. Anyone with Internet access can vote, regardless of their physical/IP location. Winners of Stage 1 — the top 15 projects as voted by the community in BC and Alberta — will be announced on December 8th. Follow STORYHIVE on Facebook and Twitter for more information.
Update December 8, 2014: Congratulations to My Grade 8 Diary on their STORYHIVE funding! See all of this season's winners here.