Best Buy is home to toys for all ages, whether you like to play music or video games, take or print photos, or accessorize your gadgets and gear. Best Buy online also has a toy section, filled with everything from remote control cars, learning toys, and robotics to DVD board games and building blocks.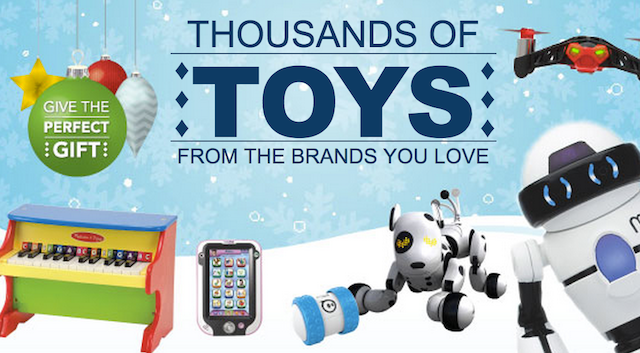 For ages 1 to 100, Best Buy carries a vast selection of toys and gadgets for kids of all ages. You'll find a great assortment of toys from VTech, LeapFrog, Parrot, Protocol, Hexbug, LEGO, Mattel, Hasbro and Traxxas.

Today's remote controlled vehicles go beyond cars and ATVs – which are all still very cool – but more advanced vehicles now include a selection of helicopters and quadricopters that are designed to fly just like the real thing. Many models let you fly indoors or out, and can even be easily piloted by just about anyone with opposable thumbs.

Find a wide assortment of comic book, video game, and movie themed collectibles to add to your shelf or pick up a DVD edition board game and you'll discover a more interactive experience than traditional board games that are just as much fun.
Best Buy Robotic Toy Giveaway
To promote their toy department, both online and in store, Best Buy has offered up two toys for me to give away: The WowWee Mip 2 Robot and Zoomer Boomer Dino.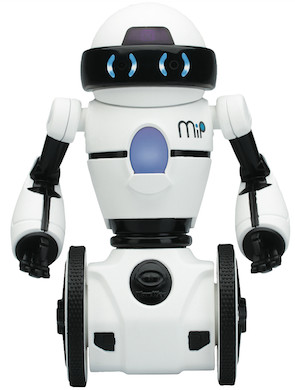 The perfect companion for gadget enthusiasts and allergy-plagued pet lovers alike, the WowWee MiP Robot offers fun and intuitive interaction controlled by your smartphone and GestureSense technology. MiP plays games, dances, battles, balances and more – with an immersive personality and impressive response time, you'll be a MiPster at first swipe. MiP might only hit your ankles height-wise, but he's a little powerhouse of high-tech, kid-savvy fun. And best of all? This is one little robot that can actually bring you a sandwich too. Suitable for ages 8+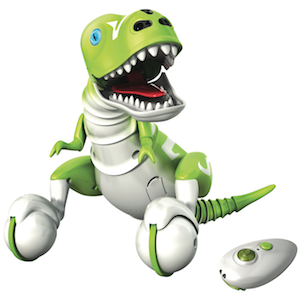 Boomer is a ferocious but cuddly Zoomer Dino. Take home your very own Jurassic friend with this tame robot dinosaur. Featuring interactive abilities, this zooming dino can spin, chomp, and roar as he roams around your home. Boomer can be cute and friendly, but watch out for his chompers, especially when you pull his tail. Suitable for kids ages 5 and up.
Here's how you can enter to win these two toys:
Leave a comment naming which of these robotic toys you would like to win (1 entry)
Post the following on Twitter (1 entry)
RT to enter to win a @BBYCanadaDeals robotic toy giveaway from @Miss604 http://ow.ly/ECStC
I will draw two winners (one for each prize) at random from all entries at 12:00pm on Tuesday, November 25, 2014. Follow Best Buy Canada on Twitter and Facebook for more gift ideas this holiday season.
Update The winners are: Maegan Morin (Boomer) and @monkeyincowtown (MiP)!