It's not every day that a friend and I leave a musical, covered in stage blood, and singing along to an upbeat tune about a cabin in the woods. This jolly good time, complete with guts, gore, and entertaining musical numbers, was Evil Dead The Musical and it's coming back to Vancouver this Halloween.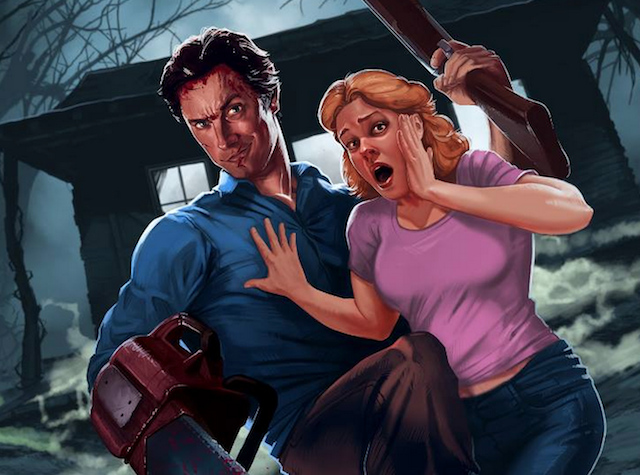 Evil Dead The Musical
Evil Dead The Musical is based on the Sam Raimi 80s cult classic which tells the age old tale: 5 college kids travel to an abandoned cabin in the woods, boy meets girl, boy expects to get lucky, boy unleashes evil spirit, girl meets the big bad and boy meets chainsaw instead. Friends into lovers, lovers into friends, and friends into Candarian Demons. Mayhem ensues, and don't forget the spectacular singing and dancing. Evil Dead includes hilarious numbers like, "All the Men in my Life Keep Getting Killed by Candarian Demons," "Look Who's Evil Now" and "Do the Necronomicon."

What is the splatter zone, you ask? It is exactly what it sounds like! The front row of the theatre is designated "The Splatter Zone." Those who buy tickets for the front row understand they will come away splattered with blood and that is all a part of the fun.
Evil Dead: The Musical boasts an impressive cast of local professional talent that is led by Scott Walters in the iconic role of Ash. He is joined by his returning cast mates Meghan Anderssen, Mat Baker, Eric Gow, Ian Rozylo, Matthew Graham, and Jennie Neumann, and introducing the newest addition Andrea Bailey. The award winning design team includes: Set Design by John Bessette, Lighting Design by Darren Hales, Make-up Design by Richard Elsom, Costume Design by Oriana Camporese, Stage Management by Robin Richardson and it is co-produced by Allyson McGrane of Left Right Minds. The production will also feature music from a live local band.
What: Evil Dead The Musical
Where: The Norman Rothstein Theatre, 950 West 41st Ave at Oak
When: October 22nd to November 1st, with 2 shows on Halloween
Tickets: Preview (Oct 22): $20; General (Oct 23-Nov 1): $30; Splatter Zone: $40
Previews start October 22nd at 8:00pm and the show officially opens October 23rd with an 8:00pm performance. October 24th and October 25th there are shows at 7:00pm and 10:30pm, October 29th and October 30th shows are at 8:00pm, Halloween night you can catch Evil Dead at 7:00pm and 10:30pm, and the show closes November 1st with performances at 7:00p and 10:30pm. Costumes are welcome.
If you would like to check out Evil Dead The Musical in Vancouver, I have a pair of tickets to give away for the performance on October 23rd thanks to Down Stage Right Productions. Here's how you can enter to win:
Leave a comment on this post (1 entry)
Post the following on Twitter (1 entry)
#Contest RT to enter to win tickets to @EvilDeadYVR from @Miss604 http://ow.ly/COHCE
I will draw one winner at random from all entries at 5:00pm on Sunday, October 19, 2014. Follow the production on Facebook and Twitter for more information. *The show is intended for an adult audience and contains quite a helping of coarse language, violence, suggestive scenes, actors showing some skin, and spraying blood and guts.*
Update The winner is @Chloe_lala!