by

Disclosure: Sponsored Post

— This post is sponsored by the Whistler Blackcomb EDGE Card. Please review the Policy & Disclosure section for further information.
Presented by:


Whistler Blackcomb, recently awarded the title of #1 Best Overall Ski Resort in North America by SKI Magazine, is preparing for another amazing season on its 8,171 skiable acres by offering up the 2014/2015 EDGE Card to Canadian and Washington State residents.
Whistler Blackcomb EDGE Card
We're so fortunate to have this world-class resort right in our backyard, and as a bonus we get amazing deals on lift passes thanks to the Whistler Blackcomb EDGE Card, with which you will never pay full price! EDGE Cards give you the option to pre-purchase your 1, 3, 5, or 10 day lift tickets and include exclusive cardholder deals and perks.
Ski or ride from $70 a day with a 10-Day EDGE Card or from $80 a day with a 5-day EDGE Card. As a bonus, when you purchase a 5 or 10 day EDGE Card by Monday, November 17, 2014, you get a free early season day (for use between opening day and December 15, 2014). This is the very best deal on lift tickets all season long.
EDGE Card Perks
EDGE Card perks, aside from the awesome deal on your lift access to Whistler Blackcomb, include saving up to 20% on shopping and rentals, and savings at CAN-SKI, Showcase, The North Face Store, Salomon Store, Columbia, and all Whistler Blackcomb Accessories locations. If you have an EDGE Card you can also get 20% off in-store equipment rentals, valid at all 10 Whistler Blackcomb locations, lodging offers from $79 per night (when booked by December 15, 2014), $35 off Group Snow School programs, savings on Adventure Camps and daily lessons for Adults or Kids (7+), and more!
New for 2014/2015 at Whistler Blackcomb
Getting from Whistler Village to the start of your powder-filled ski run is now faster than ever with RFID access on all lift tickets. All passes and EDGE Cards will now have a RFID chip, allowing hands-free access through an automated gate system prior to boarding lifts.
Also new this season, the Whistler Village Gondola introduces eight-passenger gondola cabins. Whistler Blackcomb is investing $6 million dollars into the upgrade to replace the existing cabins which have been transporting guests up the mountain since 1988. If you do miss the old cabins, you can make your bid for one in a local charity auction until November 3rd.
There are new trail improvements in the Crystal Zone, widening the narrower sections of the Crystal Glide trail which leads from the Glacier Creek Lodge area to the base of the new Crystal Ridge Express. Further trail work has been done on Rock n' Roll, Backstage Pass, and Ridgerunner to make the Crystal Zone experience more enjoyable for skiers and riders.
There's also an expanded grooming fleet this season, terrain based learning in the Snow School program, and a new food and beverage option at Garbo's Grill located in the Carleton Lodge at the base of Whistler Mountain. Promising the "Best Burgers in Town", Garbo's offers a protein choice of hormone and antibiotic free beef burger patties, grilled chicken breasts or quinoa and vegetable burgers. Diners then have a choice of over 20 garnishes, and gluten free buns are available upon request. Garbo's will also have a number of breakfast options available to early birds starting at 7:00am, including coffee and a selection of breakfast sandwiches.
Get Your EDGE Card
EDGE Cards are now available online. Purchase your EDGE Card early to ensure you have your new RFID Access Card prior to Opening Day. All EDGE Cards purchased prior to November 1 will be mailed out free of charge so that you can avoid the line up at the ticket window.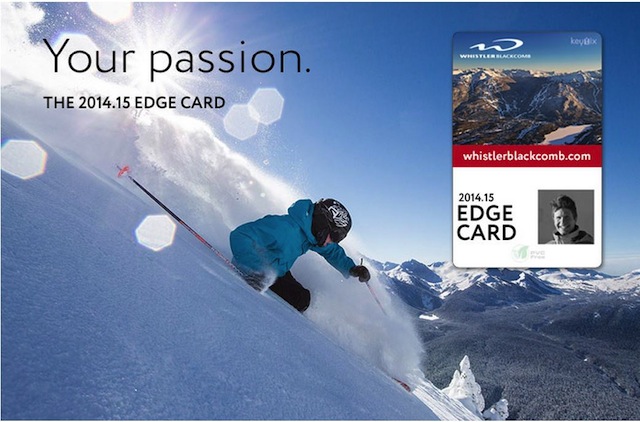 Your Passion
Beyond Whistler Blackcomb's awards, accolades and number one ratings is an experience so unique that it's hard to measure. It's the sum of many things — the reliability of our snow, the variety and sheer vastness of our terrain, and the excitement of a vibrant village. While we can't put a number to these things, they certainly add up to something special. However you choose to push your limits — a Whistler Blackcomb EDGE Card is your ticket to winter magic that's beyond the ordinary.