The next civic election takes place Saturday, November 15, 2014 in Vancouver and with a voter turnout of just 35% last time, the City of Vancouver is hoping to spread the word about advanced voting, where you can vote, and voter awareness in general. Also, for the first time ever, you can vote at any of the 120 voting locations in the city!
Voting in Vancouver
You can help elect Mayor and 10 Council members for Vancouver City Council, 7 Board Commissioners for the Vancouver Board of Parks and Recreation, and 9 School Trustees for the Vancouver School Board. You can also vote on whether to authorize the City to borrow a specific amount of money for major projects such as building and transportation infrastructure, public safety projects, and parks.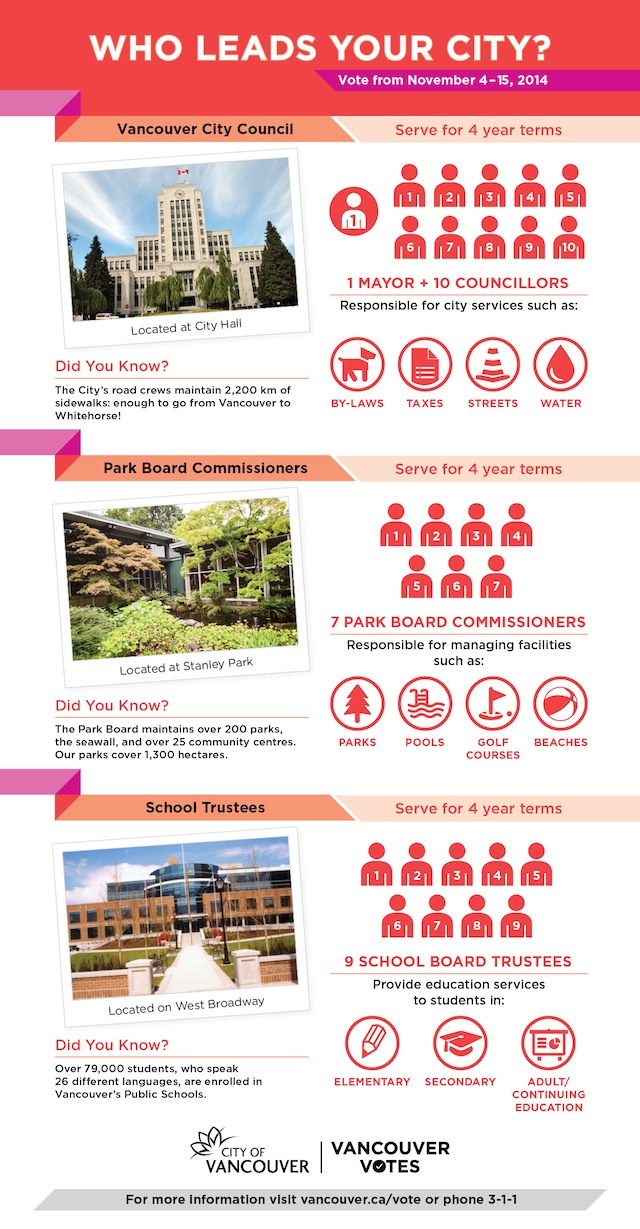 Advance Polling Stations
For the 2014 municipal election, the City of Vancouver is providing 8 locations, for 8 days of advance voting for 12 hours per day (8:00am to 8:00pm) for a total of 768 hours of advance voting prior to the election. This represents a 280% increase over 2011 and a 320% increase over 2008.
You can vote in advance between the hours of 8:00am and 8:00pm on November 4th, 5th, 6th, 7th, 8,th 9th, 10th, and 12th at any one of these locations:
West End Community Centre – 870 Denman St.
Roundhouse Community Centre – 181 Roundhouse Mews
Thunderbird Community Centre – 2311 Cassiar St.
Sunset Community Centre – 6810 Main St.
Killarney Community Centre – 6260 Killarney St.
Kitsilano Community Centre – 2690 Larch St.
Kerrisdale Community Centre – 5851 West Blvd
City Hall – 453 West 12th Ave.
Have your say and be sure to vote either in advance or on November 15, 2014 to take part in your city's future. Follow the City of Vancouver on Facebook and Twitter for more information.