SPUD, your local online grocery and organic produce delivery service, is expanding delivery options for its customers in Vancouver, offering a new Express service.
New SPUD Express service means Metro Vancouver shoppers can choose their own delivery day, increasing options for those seeking a convenient way to have local, certified organic and natural grocery products delivered right to their door.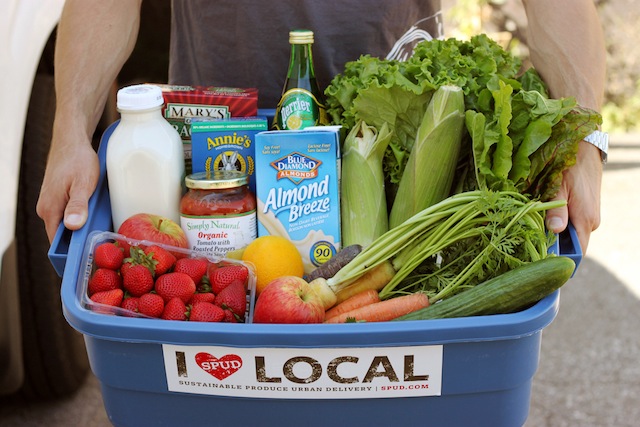 Choose fresh produce, dairy, bakery, meat and seafood, deli, beverages, ready to eat snacks, health and beauty, and home products line cleaning materials. SPUD orders are fully customizable based on your individual needs.
There are no contracts, and no minimum order size. You are free to order however much you want, as often you like. You can create a standing order and receive weekly or bi-weekly deliveries of your staple grocery items, save your lists online containing grocery items you've ordered before, or sign up for Fresh Harvest Boxes to get fresh in-season fruits and vegetables weekly or bi-weekly.
SPUD delivers to your house, apartment, or office between 9:00am and 9:00pm each day. You don't have to be home to receive your bin, and you can make changes to your order up until 3:00pm on the day before your delivery day.
SPUD Express joins SPUD's Free Weekly Delivery option, rolled out mid-September, giving shoppers the option to choose their own delivery day and get as many orders as they like for a small fee. Whatever service customers choose, SPUD continues to offer the lowest minimum order in the city.
To take advantage of the flexibility of SPUD Express, shoppers simply click the button to 'Change Delivery Date' at the online Checkout and choose the day they would like their ordered delivered. SPUD Express is currently available for shoppers in most of the Metro Vancouver region, as well as in Calgary.
Special Offer
If you would like to give SPUD a try, I have a promo code that you can use to receive $30 off your first order of $60 or more. Simply enter code MISS604 at checkout to take advantage of this offer. Follow SPUD on Facebook, Twitter, Instagram, and YouTube to learn more.