Dear readers: Miss604 is turning 10 this November so I'd like to throw a party to celebrate… and of course you're all invited!
What #Miss604is10
When Thursday, November 13, 2014 from 6:04pm until 10:00pm
Where The Belmont Bar at 1006 Granville (at Nelson) downtown Vancouver
Tickets Available online now for $15.
The event will be a casual reception with $6.04 cocktail drink specials, beer specials, and complimentary canapés served throughout the evening. The first 50 people through the door will also get a free beer ticket.
Net proceeds from this event and the prize raffle at the event go directly to Covenant House Vancouver as a part of my Covenant House Sleepout campaign. Read about my 2013 sleepout experience here.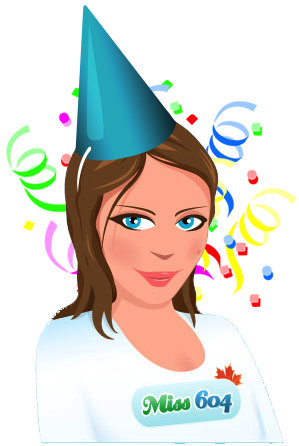 When I started this blog back in November of 2004 I had no goal and no purpose aside from tapping my fingers on the keyboard to express a few silly thoughts every couple of weeks. In 2006 I changed the focus of my site, writing more about Metro Vancouver, lifestyle, travel, my community and local charities that could benefit from online support. I attended events, I hosted blogging marathons for causes, and I met some incredible people thanks to the opportunities that my blog has provided. Doors have been opened, whether I knocked or not, and for this I am thankful.
In 2008 when I went out on my own, with the company I share with my husband, I still didn't know how much the blog would grow. By 2010, when I wrote over 120 blog posts about the Olympics in our fair city, I knew I had to keep pushing and keep creating content that I love.
My readers have raised tens of thousands of dollars for some amazing charities, they have supported local business and the arts, and they have continued to drive me to do what it is I do every single day. Please join me in celebrating Miss604.com on November 13th.
Sponsors
A very big thank you to major sponsors LONDON DRUGS, PATIO SOCIAL, GRANVILLE LIQUOR STORE, and HONDA CANADA.