Cineplex is hosting a select Free Movie Day (aka Cineplex Community Day) in participating theatres across the country, benefitting Free The Children, which is the awesome non-profit that has brought us events like We Day. We Day has hosted 278,000 youth at events in cities across North America and in the UK and as a result, $37,000,000 has been fundraised for 1000 causes and 9,600,000 hours have been volunteered by participating youth..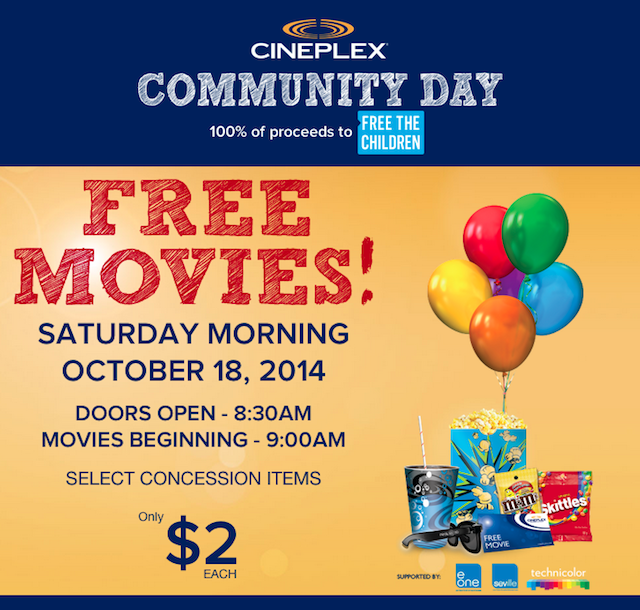 Doors will open at 8:30am on Saturday, October 18, 2014 and movies will start at 9:00am. Select concession items will be just $2. In the Greater Vancouver area, SilverCity Colossus in Langley, Cineplex Odeon Strawberry Hill, Scotiabank Theatre in Downtown Vancouver, SilverCity Coquitlam, SilverCity Riverport, Cineplex Odeon Park & Tilford, Cineplex Odeon International Village, Cineplex Odeon Meadowntown, and others will all show the following films for free:
ESCAPE FROM PLANET EARTH @ 9:00am
ENDER'S GAME @ 9:15am
WALKING WITH DINOSAURS (3D) @ 9:30am
PARANORMAN (3D) @ 9:45 am
DIVERGENT @ 10:00am
FREE BIRDS @ 10:15 am
Enjoy a free movie, concession items for a cause, and a fun family day at the theatre in your community. Follow Cineplex on Twitter, and Free the Children on Twitter for more information.
Free The Children and Cineplex are working together to empower young Canadians to make a positive difference in their local communities and around the world. Free The Children is an international charity and educational partner that works with hundreds of thousands of elementary and secondary students from 5,000 schools across Canada and 2.3 million youth worldwide.
From sponsoring We Day, Free The Children's biggest youth empowerment event, to providing opportunities and scholarships at youth summits and leadership camps, to offering free movies at Community Day in October, Cineplex is dedicated to empowering the next generation of Canadians to get involved in pressing issues like local hunger and bullying, and make a difference in the lives of others. Free The Children is Cineplex's national charity partner.