Everyone loves bubbles! Pop a cork or cap to celebrate a milestone, achievement, or to make any occasion special. Here in BC, there are plenty of options to sip a crisp and effervescent wine made right here in the Okanagan.
"I'm sure if I look hard enough there's a Harvard study saying how you cannot be unhappy when you have bubbles," Jay Drysdale of Bella Wines said with a smile. While on an Okanagan Wine Festivals tour with local and international media, my group joined Jay at Okanagan College's BC Wine Information Society Sensory Lab in Penticton on a warm early October evening.
The Sensory Lab was built in the heart of wine country thanks to donations from the BC Wine Information Society, which operates the BC VQA Wine Information Centre in Penticton. It was here that I learned about the history of sparkling wine in BC from Jay and sampled some of the region's best offerings.
"These styles don't need to be chasing Champagne, they can be our own," Jay added. The Okanagan — whether north, south, east, or west — has such unique terroir (the characteristic taste and flavour imparted to a wine by the environment in which it is produced) that BC wine is standing out on its own.
Sparkling Wine from the Okanagan
Sumac Ridge (Summerland) produced Canada's first traditionally-made sparkling wine and Canada's first sparkling Shiraz in 1989, and the Stellar's Jay Brut is always a solid option today. Summerhill (Kelowna) followed in 1992-1993, as did Gray Monk (Lake Country).
Jay says there are about 45 wineries in the Okanagan who now do sparkling for various reasons, whether it's to expand their portfolio or use up extra juice, and that number will soon go up to 60. "It's the wild west of winemaking! It's exciting that we're so bloody young, it's a whole new frontier."
He told my group that he'd love for BC to be known for more than ice wine internationally, perhaps for its Syrah, Riesling, and most certainly its bubbles. "We need to be shouting that BC grows a style like no one else in the world."
All revved up, caps and corks were popped for our own tasting in the Sensory Lab. We sampled Bella's sparkling Chardonnay, Summerhill's Cipes Brut, 8th Generation's Integrity Frizzante, Gray Monk's Odyssey White Brut, and Sumac Ridge's Stellar's Jay. Each was its own expression of its vineyard, grapes, and growers — from green apple, citrus and floral notes to rich and creamy vanilla.
Other sparkling wines enjoyed throughout our trip included Stoneboat's Piano Brut and Faux Pas Rosé Brut, and Liquidity's NV Bubbly, produced between Oliver, Osoyoos, and Okanagan Falls, which is also home to Blue Mountain and See Ya Later Ranch.
Oliver's Road 13 Sparkling Chenin Blanc won a 2013 BC Wine Award for Best of BC and a gold medal for its 2010 vintage. Bella (Naramata) won gold medals for both its 2012 Oliver West Side and Oliver East Side sparkling Chardonnays. Vineyards that are a hundred kilometers apart are all producing exciting and unique sparkling wines in their own way.
Basic pairings for sparkling wine range from deep-fried foods and vegetables to oysters, sushi, shellfish, and poultry. BC Liquor Stores currently carry 13 different sparkling wines from our province and independent wine shops like Liberty and Everything Wine also have affordable local selections. The next time you reach for a bottle of bubbly, drink local and make that the cause for celebration.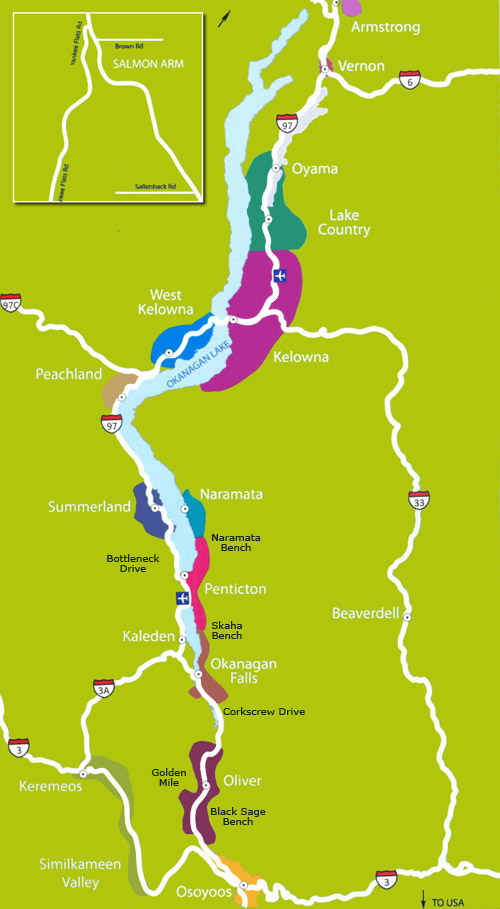 There are 186 vineyards and 215 licensed vineyards in BC with 131 of those wineries located in the Okanagan region.
Last year, BC wineries won over 2,000 medals in national and international competition – more than ever before.
Find more BC winery listings via the Okanagan Wine Festivals Society and the BC Wine Institute for Okanagan, Vancouver Island, Fraser Valley, Gulf Islands and Similkameen listings.