Doolin's Irish Pub on the corner of Granville and Nelson has become our second home on Whitecaps match days (due to it being the official base of the Southsiders supporter club) but John and I recently enjoyed a different Doolin's experience when we stopped by after work for a flight of local brews and some dinner.
The friendly neigbhbourhood pub, situated in the heart of downtown Vancouver's entertainment district, is known for its sporting event screenings, live music, casks nights, and beer pairing dinners. On match days, we usually enjoy the specialty menu that is offered so during our date night we sampled a wider range of offerings.
First things first, we each ordered a flight of beer ($11.50) which consists of 4 x 6oz samples of any beer they have on tap, including plenty of local options like Russell, Granville Island, Stanley Park, and brewed-for-Doolin's features. It was a great start to the night in our cozy, wood-paneled nook near the fireplace.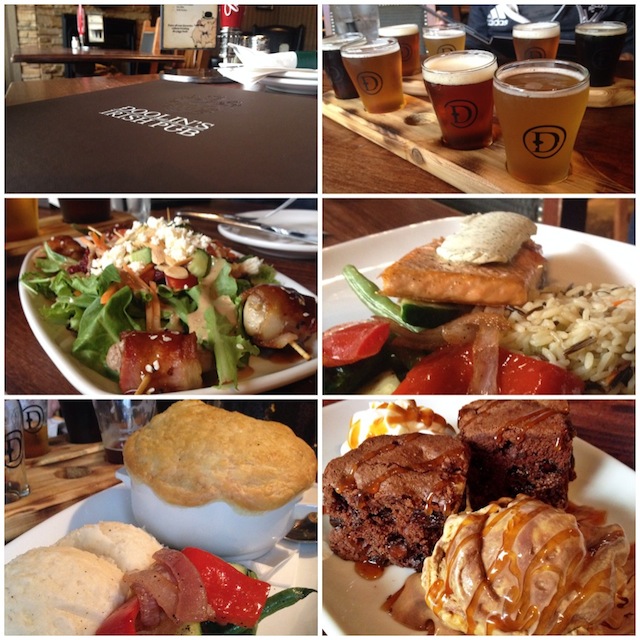 We decided to split an appetizer and go for something a bit different. After consulting with our server, who said it was a good choice, we ordered the Duck Bites ($8) which are chipotle and ginger marinated duck morcels topped with spicy pickled jalepenos, wrapped in bacon and topped with a sweet sesame soy glaze. There were only a few pieces of duck on the plate but they were devoured quickly and the accompanying salad was a bright and fresh contrast to the rich, tender bites.
For dinner I stuck with pub fare and ordered the Cork County Chicken Pot Pie ($12.50), made with Rossdown free-run chicken from Abbotsford, carrots, celery, and peas in a creamy stew topped with flaky pastry. It was served with house-made mash potatoes and seasonal vegetables. When I poked my fork into the pastry it was "steaming like a locomotive," as John put it. The pastry was very light and buttery, not too dense, and baked to a golden brown. Once the piping hot filling cooled a bit, I enjoyed the large, tender chunks of chicken in the rich stew. The only drawback was that I did not finish my potato and could have gone for one fluffy, buttery mound instead of two. Those with a heartier appetite will enjoy this helping, however.
John opted for the Wild Salmon ($17) which came topped with garlic herb butter, seasonal vegetables and rice pilaf. This is a simple dish but sometimes — served elsewhere — it can go terribly wrong without the right care and attention to fresh and local ingredients. John thoroughly enjoyed his light meal and in this case it was just right, from the glistening pink salmon to the tender pilaf.
After getting our fill of vegetables at the pub we couldn't resist dessert. John hemmed and hawed about the third course but once I serenaded him with a chorus of "peanut butter chocolate ice cream" he was hooked. The Brownies and Ice Cream ($6) features a warm, house-made brownie with velvety peanut butter chocolate ice cream. Normally we wouldn't mix a flight of beer and ice cream but it perfectly rounded out the entire dining experience.
Finally, another thing we like at Doolin's is the friendly staff. No matter how jam-packed the pub might get, like on a Whitecaps match day, everyone is always helpful, courteous, and prompt.
Win a $50 Gift Certificate to Doolin's
Now that I have shared our after work/dinner date experience, I have the chance to offer a reader their own with a $50 gift certificate from Doolin's.
They have new menu items like Cajun Chicken Salad, Wonton Prawns, Fried Pickles, Short Rid Flatbread, Wild Salmon Sandwich, and a Fried Chicken Sandwich as well as wine on tap.
Here's how you can enter to win:
Leave a comment on this post (1 entry)
Post the following on Twitter (1 entry)
RT to enter to win a $50 @Doolins gc from @Miss604 http://ow.ly/Blzfq
I will draw one winner at random from all entries at 12:00pm on Wednesday, September 17, 2014. Must be 19+. Please enjoy responsibly. Doolin's is located at 654 Nelson St at Granville in downtown Vancouver. Follow on Twitter and Facebook for more information.
Update The winner is Sarah M!