If you thought July 11th (7-Eleven Day) was awesome because it's the annual Free Slurpee Day then this will make you even more happy. On Friday, September 19th 7-Eleven stores across Canada are hosting Slurpee Name Your Price Day where 100% of proceeds will go to Food Banks in Canada.
Customers will have the option to pay $0.50, $2, $50 or whatever they want to enjoy their favourite frozen beverage. Funds from this campaign will be donated to Food Banks Canada, the national organization supporting local food banks across the country. The National Food Sharing Program will provide essential food to those 7-Eleven communities most in need, ensuring customer donations have the greatest impact.
Impact of donations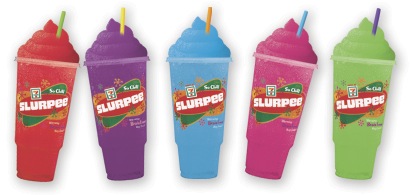 $1 donation
= breakfasts for a week for an individual in need
$3 donation
= enough snacks for every school day for a week for a school aged child
$5 donation
= dinners for a month for an individual in need
Pay the standard $1.99 for a large Slurpee and you will help to share 14 meals – that's a week's worth of breakfasts and dinners for someone in need
You can find your nearest store using the 7-Eleven App and share your experience on social media using #Nameyourprice or tweeting at @7ElevenCanada.
Food Banks Canada supports a unique network of over 3,000 food-related organizations in every province and territory that assists close to 850,000 Canadians each month. Together our network shares over 200 million pounds of essential safe quality food annually, provides social programs that help to foster self-sufficiency, and advocates for policy change that will help create a Canada where no one goes hungry.