The Vancouver Alpen Club has been at the heart of the local German community since 1935 and the building on the corner of Victoria Drive and 33rd Avenue has been its home for the last 60 years. Heading into fall, they have posted their schedule for Oktoberfest, which will be celebrated throughout the first three weeks of October.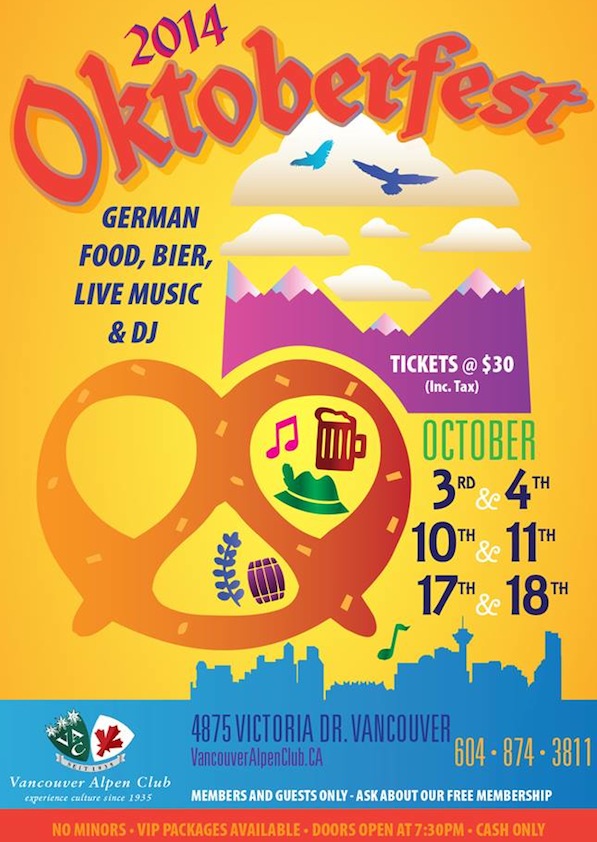 What: Oktoberfest at Vancouver Alpen Club
Where: Vancouver Alpen Club, 4875 Victoria Drive
When: Fridays and Saturdays
October 3rd to October 18th, 2014
Tickets: Starting at $30 per person (includes entrance fee, no reservations) or $80 (VIP includes entrance fee, reserved table, access to Bavaria Lounge, table service, buffet, and a souvenir). Doors are at 7:30pm each night. Must be 19+.
The event will feature entertainment from The Continentals and DJ Mike Holzhaus, providing the best of Ohhmpah pah, classic German Schlager Songs and today's hits. The kitchen will serve Bavarian cuisine and a special menu throughout the month as well and German beer will be flowing.
Tickets are available in the office for pickup or via telephone (604-874-3811 ext. 5). Ticket sale hours are between 2:00pm and 6:00pm, Tuesdays to Saturdays.
For more information, visit the Vancouver Alpen Club online or in person, and follow on Twitter and Facebook.