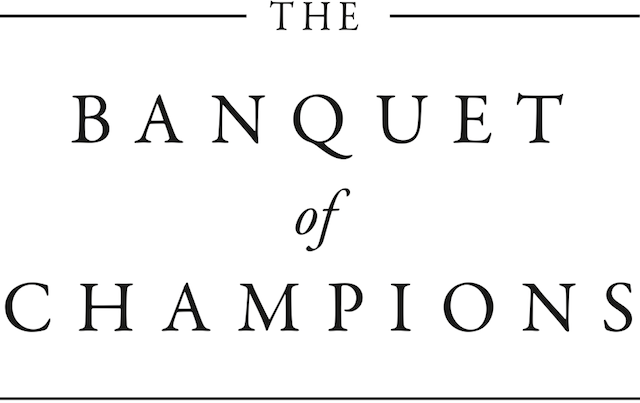 The BC Sports Hall of Fame is inducting its Class of 2014 tonight at the 46th Annual Banquet of Champions, live from the Vancouver Convention Centre.
On top of the induction ceremony and a dinner, guests tonight can participate in a live auction with prizes from River Rock Casino Resort, the 102nd Grey cup, the Vancouver Giants, and Vancouver Whitecaps FC. Edgewater Casino will also host a raffle for a trip for two to Las Vegas.
Banquet of Champions
I am proud to once again be the social media sponsor of this very special event. Check back here at around 6:00pm tonight for photos, quotes, and news as it happens at the Banquet of Champions. Partner ViaSport is also providing a live stream starting at 6:30pm.
Follow the BC Sports Hall of Fame on Twitter and Facebook, and use the tag #2014BOC to see updates throughout the night.
Class of 2014 Inductees
In the athlete category, five athletes: Greg Athans (freestyle skiing), Sarah Burke (freestyle skiing), Lars Hansen (basketball), Scott Niedermayer (ice hockey), Joanne Sargent (basketball).
In the builder category: Bob Nicholson (ice hockey) and Dr. Jack Taunton (sports medicine) have been selected. Selected for induction in the pioneer category is Robert Powell (tennis) and in the W.A.C. Bennett category, Erwin Swangard. The 1978 Doc's Blues Women's Softball Team has been selected for induction in the team category and Paul Carson has been selected for induction in the media category.
Banquet of Champions Live Blog
The program for the night begins as guests take their seats and the Vancouver Police Pipe Band leads the processions of Honoured Members and 2014 inductees into the grand ballroom at the Vancouver Convention Centre. The evening's MC, Steve Darling from Global BC, welcomes everyone and introduces Colin Brown, Trustee of the BC Sports Hall of Fame.
Brown's remarks kick off an evening of appreciation, reflection, and celebration, including a shout out to the Canadian Women's National Rugby Team, and team members who are in the crowd tonight. BC's Lieutenant Governor, The Honourable Judith Guichon, OBC also welcomes everyone and shares an anecdote about the importance of sport when it comes to our mental and physical health.
MC Steve Darling announces that throughout the night he will share milestones and anniversaries. This year is the 50th anniversary of the BC Lions' first Grey Cup win. It's also a time to celebrate the future of sport in BC, including the 2015 Canada Games in Prince George, the FIFA Women's World Cup, and the 102nd Grey Cup.
Honored to be representing my late grandfather Erwin Swangard as he's inducted into @BCSportsHall tonight #2014BOC pic.twitter.com/uZ9pwj5nmb

— Paul Swangard (@PaulSwangard) September 25, 2014
Update 7:00pm: The first inductions of the evening are Dr. Jack Taunton (sports medicine), in the pioneer category is Robert Powell (tennis) and in the W.A.C. Bennett category, Erwin Swangard.
Angus Reid introduces inductee Erwin Swangard — sports reporter, editor, patron of sport in BC, and namesake of Swangard Stadium in Burnaby — to the guests. I learned earlier this evening that his grandson would be here tonight to accept this honour on his late grandfather's behalf.
Robert Powell, who is a member of the Canadian Tennis Hall of Fame, is the next inductee in the pioneer category. Not only did Powell excel in tennis and the history of the sport in BC, he also enlisted in the Forty-Eighth Canadian Battalion of the Canadian Infantry in World War I and reached the rank of Lieutenant. He was killed in action in France during the Battle of Vimy Ridge on 28 April 1917.
The gentleman accepting the award on Powell's behalf quoted Rudyard Kipling and told the audience here tonight that: "I think Bobby Powell was twice a Canadian hero. Once for tennis and one for fighting for his country."
Dr. Jack Taunton's induction is up next. The introductory video that plays says that Jack has estimated that he's run over 193,000 kms in his life! He is inducted in the Building/Sports Medicine category.
Update 7:15pm: I will provide links to each of the inductees' BC Sports Hall of Fame profiles once they are posted so that you can read up on all of the amazing achievements and contributions they have made.
Update 7:30pm: The BC Sports Hall of Fame announces some of their latest programs and exhibits including Hero in Your Heart (that Jay DeMerit will speak to later tonight) and Penny Ballem from the City of Vancouver announces the In Her Footsteps program and grant in partnership with an upcoming Women in Sport exhibit at the BC Sports Hall of Fame.
Update 7:45pm: Milestone moment #2 of the evening, Steve Darling reminds us that it's been 35 years since the Whitecaps won the North American Soccer League championship in New York against the Tampa Bay Rowdies and it's also the 40th anniversary season of the Vancouver Whitecaps.
Update 7:55pm: A short intermission for dinner here at the banquet.
Update 8:10pm: Continuing with the inductions, up next is 1978 Doc's Blues Women's softball team in the team category with an overall record for the season of 113 wins, 16 losses, and 2 ties. "Those attending tonight are native to BC."
Up next is Greg Athans (freestyle skiing) first to date, and still the only male, to win gold medals at both Winter and Summer Canada Games. Greg passed away in 2006, but his legacy as a freestyle skiing pioneer continues today. The award is accepted by Athans' daughters.
She was the first female to land a 720, 900, and a 1080 in a competition and many have called Sarah Burke the best female freestyle skier ever. Sarah will be inducted next as her mother accepts the award on her behalf and BC Sports Hall member Ashleigh McIvor DeMerit is one of the presenters.
Sarah passed away in 2012 but her legacy lives on through the Sarah Burke Foundation. Sarah's mom shares a letter she received from a skier in Poland after Sarah's passing: "The beautiful part of this terrible tragedy is all the hearts that Sarah touched."
Lars Hansen (basketball) accepts his award and it's his birthday today. "I am so proud to win with this group," Lars takes the time to recognize all of his former teammates.
Update 8:30pm: Dennis Hull hosts a live auction as the silent auction closes. The audience enjoys his humour (and takes to Twitter to show their appreciation) while he gets $5,000 in a single bid for the VIP Grey Cup experience that was up for grabs.
Update 8:50pm: Executive Director Allison Mailer takes to the stage for some remarks and to highlight some of the Hall's programs and community campaigns, including the donors that make them happen.
Jay DeMerit, Retired captain of Vancouver Whitecaps FC, follows Allison to speak about what the power of sport means to him. "As a team you learn how to communicate with others, how to have each others' backs.. …As an individual you learn how to get inside your own brain, how to prepare, and get out there with the mentality of 'it's me against the world'." His movie, The Jay DeMerit Story is really great, I recommend watching it with your family or with your team.
Two more milestone moments: The Commonwealth Games and the Miracle Mile, and the great 1994 era of sport in our province.
Update 9:15pm: Joanne Sargent (basketball) is the next inductee to be honoured. "Joanne, by herself, redefined the way girls could, and should, play the game."- Bev Smith. Joanne lists off all of the things for which she in grateful including: "The honour of holding the record for assists in a single game for 20 years, that I never knew I had… until it was broken."
Brent Butt introduces Bob Nicholson (ice hockey) and leads off with 'things that have never been said about Bob Nicholson', since there will be many great things said about him tonight. Brent suggested that Bob invented he potato chip, among other things. "I don't know if it's true, but it's never been said about Bob, so…"
Ron Toigo was next and he said no one has done more for hockey in Canada than Bob. In 1998 Nicholson became president of Hockey Canada, a position he held for 16 years. "What I love most about this job, is when you travel coast to coast, people love this game."
"The reason we won 44 gold medals is because Canada has the best players in the world, bar none. You'll see one of the greatest players to put on skates in just a few minutes, Scott Niedermayer."
Update 9:30pm: Rob Fai introduces the next inductee, Paul Carson, in the media category. "Turn on any sports radio or TV program in Canada and you might not hear Paul but he is there."
Paul Carson's wife accepts the award on behalf of her late husband, we lost Paul to pancreatic cancer in 2010. "What a great night, the kind of night Paul would have loved to a be a part of." At a young age Paul told his mom, "he knew what he wanted to do and he needed a mic to do it."
Update 9:35pm: The final inductee of the night is Scott Niedermayer. Among his many, many accolades, trophies, and medals, he led Canada to hockey gold on home soil in the Vancouver 2010 Olympics. Niedermayer had 172 goals and 740 points in 1,263 career games.