Culture Days is an annual, national, three day celebration where Canadians are encouraged to participate in free and interactive activities to discover their cultural spirit and passion. Here in BC, there are 449 events and activities listed on the Culture Days calendar between September 26th and 28th and a provincial launch event will take place in Surrey.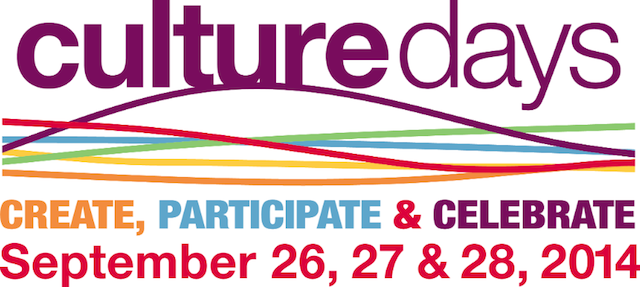 Featured BC Culture Days Events
What: BC Culture Days Provincial Launch​ ​
When: Thursday, September 25, 2015 from 11:00am to 1:00pm
Where: Surrey City Hall, Centre Stage, 13450 104th Ave
Details: Presented in partnership with the City of Surrey, Surrey Arts Centre, and Surrey Libraries. Everyone is invited to join in this free public community celebration featuring:
Christopher Gaze, Artistic Director of Bard on the Beach as emcee
Performances by Country singer Lisa Brokop, Spirit of the West's John Mann, Surrey City Orchestra, Praise Team (hip hop dance troupe), and Heritage Re-enactors
A cultural forecast by CTV's Marke Driesschen and speakers Sal Ferreras, Provost and Vice President Academic at Kwantlen Polytechnic University and Lucille Pacey, President and CEO of Arts Umbrella
Evelyn Roth's inflatable salmon installation & storytelling, a poetry reading by Rawle Iam James, 2014 BC Culture Days Ambassador, onsite sketching by Elizabeth Hollick and painting activities presented by the South Surrey/ White Rock Society
Enjoy lunch from food trucks and more
Abbotsford
What: Arts and Culture Youth Party
When: Friday, September 26, 2014 from 5:00pm to 9:00pm
Where: AYC Youth Centre at MRC and AYC Youth Centre at ARC, 2499 McMillan Road
Details: Youth ages 12 to 18 can join the Abbotsford Youth Commission in creating art installations for their youth centres. Free food and free fun.
Kelowna
What: Culture Days Street Festival at 312 Bernard Ave
When: Friday, September 26 (6:00pm to 11:00pm); Saturday, September 27 (11:00am to 10:00pm), Sunday, September 28 (11:00am to 5:00pm)
What: Book Drop to Book Shelf: A Backroom Tour of the Library
When: Saturday, September 27, 2014 at 1:30pm
Where: Prince George Public Library, 888 Canada Games Way
Details: Ever wondered where your books go when you drop them off through the slot in the wall? How do new books get 'library ready'? Learn about these and other library mysteries in our special Culture Days Back Room Tour with a behind-the-scenes look at the library's inner workings. All ages are welcome.
Richmond
What: Life Drawing
When: Saturday, September 27, 2014 from 11:00am to 3:00pm
Where: Richmond Cultural Arts Centre, #180 7700 Minoru Gate
Details: Richmond Artists Guild will have a display of some of their work and also have a model posing. Members will be painting and drawing and the public is invited to watch or to try their hand and join in. All ages are welcome.
Vancouver
What: Introductory Workshop to Contemporary Dance and Group Improv
When: Saturday, September 27, 2014 from 11:00am to 1:00pm
Where: Moberly Arts Centre, 7646 Prince Albert St
Details: You will learn and apply improvisation principles and present a brief group choreography. Open to all ages and all levels of experience with dance.
There are hundreds of events to choose from around the Vancouver area which also include a Camera Obscura Workshop, the 20th Annual Word Vancouver Festival, Photo Exhibition: Dr. Sun Yat-Sen and Canada, Granville Island Culture Days, and an Etsy: Made in Canada Fair at Robson Square.
Follow national Culture Days updates on Twitter and Facebook for more information.