The BC Seniors Games are coming to Langley September 9th to September 13th, 2014 and over 800 volunteers are still needed to help make this event a success.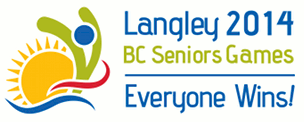 Volunteers are needed for: Sports Set Up & Management; Lost & Found; Traffic Control; Security; Medical Services; Hosting & Medal Presentation; Results Centre; and Participant Accreditation. This could be a unique team-building opportunity for your company and the chance to give back to the community.
"Volunteers can take part from as little as half a day to the full week event," says President Milt Kruger. "From directing participants along race-routes to helping at the awards podium, there is something for everybody and for all age groups."

The BC Seniors Games will host participants from around the province who will compete in events such as archery, badminton, darts, equestrian, tennis, swimming, track & field, ice hockey, slo-pitch, golf, floor curling, ice curling, and more.
To register as a volunteer for the BC Seniors Games in Langley simply call (604) 533-8065, email [email protected], or visit in person at 101-20560 Fraser Highway, Langley (Monday to Friday between 9:00am and 4:00pm).