The Rifflandia Festival will take over Victoria clubs, bars, public spaces and parks from September 11th to September 14th as this mega music event welcomes acts like Girl Talk, Serena Ryder, Dragonette, The Skatalites, Dear Rouge, Head of the Herd, Jon and Roy, Rich Aucoin, We Hunt Buffalo, and dozens more.
Rifflandia Festival Artists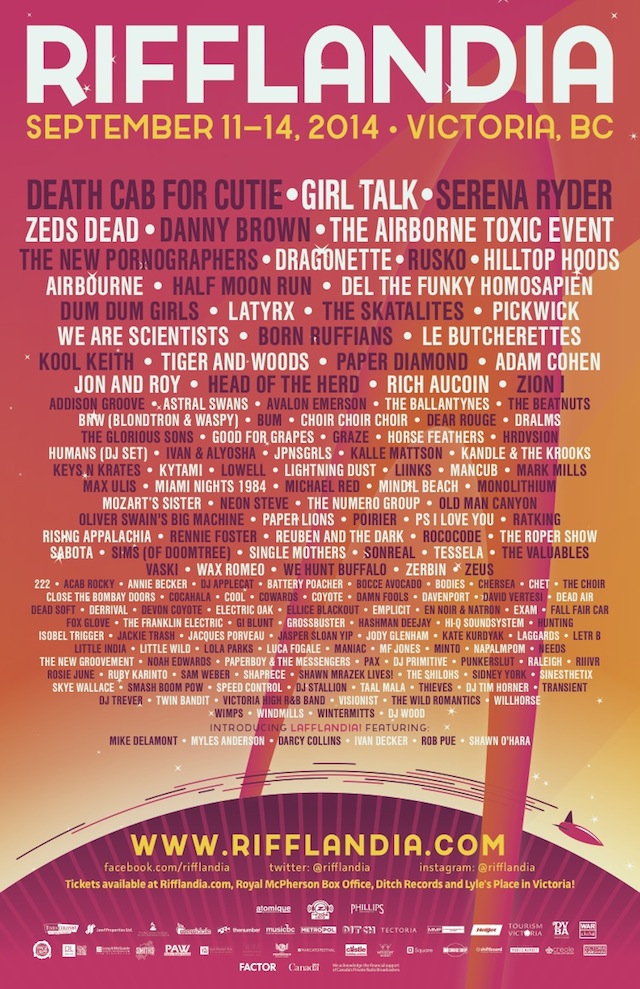 Death Cab for Cutie, Girl Talk, Serena Ryder, Dragonette, Del the Funky Homosapien, Kool Keith The Beatnuts, Choir Choir Choir, LIINKS, Miami Nights 1984, Neon Steve, Oliver Swain's Big Machine, Ratking, The Roper Show 222, Annie Becker, Bocce Avocado, Chet, The Franklin Electric, GI Blunt, Kate Kurdyak, Lola Parks, MF Jones, The New Groovement, Paperboy & the Messengers, Raleigh, Ruby Karinto, Shaprece, The Shilohs, DJ Stallion Thieves, DJ Trever, The Wild Romantics, Willhorse, DJ Wood… just to name a few!
Since 2008, Rifflandia has become a city-wide music fest in our province's capital with an impressive concert lineup, theme days like Nautical Friday, Save The Day Saturday and R&R Sunday, and a collection of three creative festivals (Thinklandia / Artlandia / Makelandia) all rolled into one. There's also a charity component with $2 from every Rifflandia ticket sold going to War Child making it a very worthy (and fun) reason to hop a ferry to Victoria for the weekend.
Rifflandia Venue Map
Single day tickets and festival passes are available online or in person at Royal McPherson Box Office, Lyle's Place, and Ditch Records. Follow Rifflandia on Twitter and Facebook for more information. Some venues are open to children (12+) so whether you're looking for weekend fun with the family or your favourite band is playing your favourite Victoria club, there's something for everyone.