by

Disclosure: Sponsored Post

— This post has been contributed by Allen Tung of Translink's Buzzer Blog . This is a paid post in partnership with I Love Transit Week 2014. Please review the Policy & Disclosure section for further information.
I Love Transit Week is coming up August 25th to 29th. Allen Tung of The Buzzer Blog has contributed the following post to promote this year's campaign. You can find out more by following Translink on Instagram, Twitter, Facebook, and The Buzzer Blog.


One week each year, we celebrate what we love about transit and I Love Transit Week is back August 25th to 29th! For this year's celebrations, we'll be sending ten kids, aged 8 to 12, and their parent or guardian to I Love Transit Camp for a special behind-the-scenes tour of SkyTrain, SeaBus, and much more on Tuesday, August 26th.
We will visit the SkyTrain Operations and Maintenance Centre (OMC) where we'll see where the vehicles are maintained and cleaned as well as SkyTrain Control. We'll also visit the SeaBus maintenance docks by Waterfront Station and we'll have the chance to head up to the bridge and speak to the captain of the SeaBus!
Afterwards, we'll have some fun on a 40-foot bus and talk to an operator instructor to find out what it's like to drive a bus. Finally, we'll meet up with Transit Police and maybe even Transit Security to learn more about everything they do. I'm told they'll be bringing their vehicles and a special guest if we are lucky.
I Love Transit Camp
If you and your child are interested in this fun day on transit, get your application in now in two easy steps:
1. We'll need the kids to tell us in 50 words or less what that they love about transit.
2. Email that to [email protected] with "I Love Transit Camp" in the subject by August 19, 2014.
If you like, you can also include a photo and/or video as part of your entry. Be sure to include the name, age, and phone number of the participant and parent or guardian.
What about those who are no longer kids but who are still young at heart? They can join in the fun too. We are going to have a vintage bus in downtown Vancouver from the Transit Museum Society (TRAMS). Take pictures, explore our transit past, free pins, bus and SkyTrain cutouts and more. This will take place Monday, August 25th at the EasyPark lot at Cambie Street and Georgia Street from 11:00am to 2:00pm.
And as usual, The Buzzer blog will be packed with contests, interviews, essays, submissions from Buzzer readers sharing just why they love transit!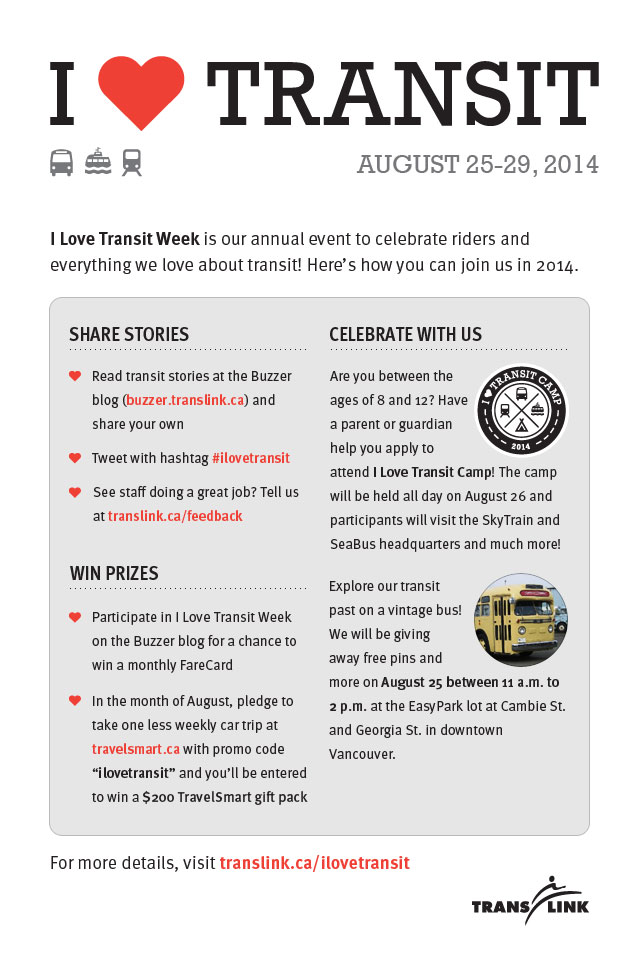 Have you shared your transit love with us? Tweet it with the hashtag #ILoveTransit or email it to [email protected]. We'll feature as many as we can on the Buzzer blog! See staff doing a great job? Let us know by going to translink.ca/feedback and filling out a commendation form.