Red Bull is known for bringing its out of this world adventures and feats to all corners of the globe and they'll be hosting another exciting event in Vancouver this weekend. Red Bull Around the Strait will take place on Saturday at Jericho Beach.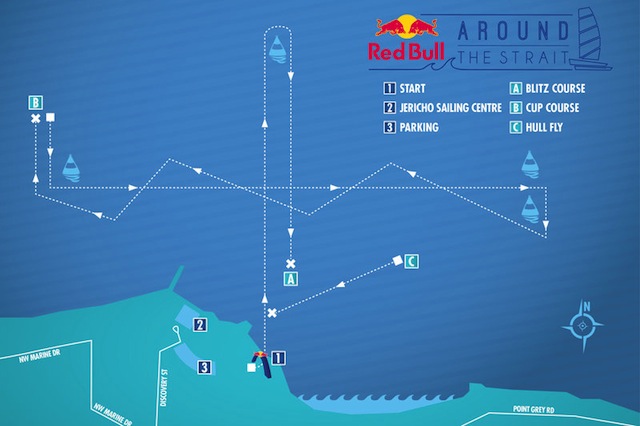 What: Red Bull Around the Strait (Competitive Sailing Race)
Where: Jericho Beach, Vancouver
When: Saturday, July 12, 2014 from 10:00am to 4:00pm
This will be an exciting day of action on the water as amateur and seasoned sailors alike go head to head in this first time competitive sailing race with a twist. With three difference race formats wrapped up in one contest, it will take a mix of strategy, skill and a little style to win.
There will be three race stages. The Blitz Course has a Le Mans-style start where racers will sprint down the beach to their boats in an exciting battle straight out to a marked buoy, and then back to the finish line near the beachfront.
On the Cup Course boats will start downwind with each class trying to take the hole shot around the first turn. From there, high speed downwind sailing and strategy takes over with a gate giving the sailors a choice of directions to head back up the course to finish on their second lap.
The Hull Flyer is the decider for the points, and ultimately the winner. Red Bull asks: "How far can you push your boat, in style, as spectators look-on from the beachfront? It's time to show off or crash trying, points will be given by on water judges. Points based on height, time flying and style."
If you would like to compete, registration is open online. To be a spectator, simply head to Jericho on Saturday to enjoy the action for free with your family and friends.