Imagine picking up some of Harbite's new Jalapeño flavour chips, crunching into a handful of perfectly kettle-cooked morsels, licking your fingers, reaching again for the bag of BC's only locally produced potato chip and seeing your awesome photograph front and centre on the packaging!
Harbite Potato Chips is asking its customers to contribute a 'hot shot' to be featured on the packaging of their new Jalapeño flavor chips. Along with bragging rights, the winner will receive $500, a GoPro HERO3+ Black Edition camera and – of course – free chips.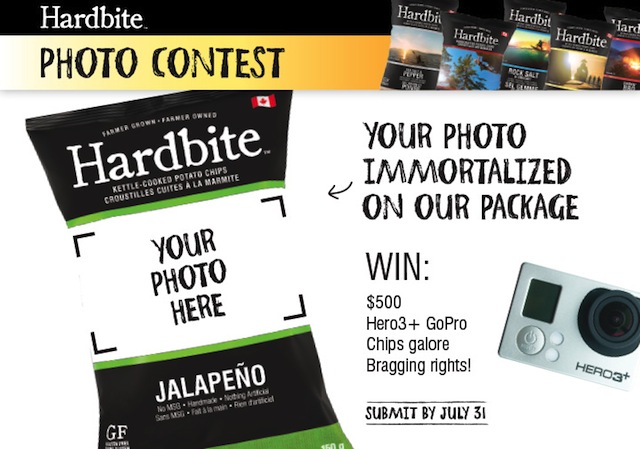 Hardbite Potato Chips Photo Contest
In keeping with its current family of packages featuring iconic BC locations, photos should capture a favourite summer activity: anything from hiking to surfing, swimming to cliff jumping. Up to three original, high-resolution 'hot shots' should be uploaded to the company's website by July 31, 2014.
A panel of judges will be looking for image quality, composition and how well the picture represents the Jalapeño flavour: exciting, daring and satisfying. 25 finalists will be selected to face off in a public vote and the entry with the most votes on August 31 wins. Which means all through August those finalists will be busy recruiting friends, family and possibly total strangers to vote for their photo.
All entries must be original photos taken in BC featuring a person engaged in a summer, outdoor activity. Photos must be in digital format: high resolution or minimum 2500 pixels wide. They must also be in JPEG format.

Proud to have roots right here in BC, Hardbite is produced in Maple Ridge by a dedicated group of employees who carefully craft every bag of chips by hand with no artificial anything. No GMOs, gluten, trans fats or cholesterol.
For more information visit the Hardbite website and follow along on Facebook, Twitter, and Instagram.