Squamish Days are here! July 31st through August 4th the community will celebrate 100 Years of Squamish and the 57th annual Squamish Days Logger Sports Festival. The weekend will be packed with fun for the whole family, from participation in a 10km run to sitting back and enjoying a wacky parade and live music, showcasing Squamish's rich history and vibrant community spirit.
Squamish Days
Participate in the following events around town: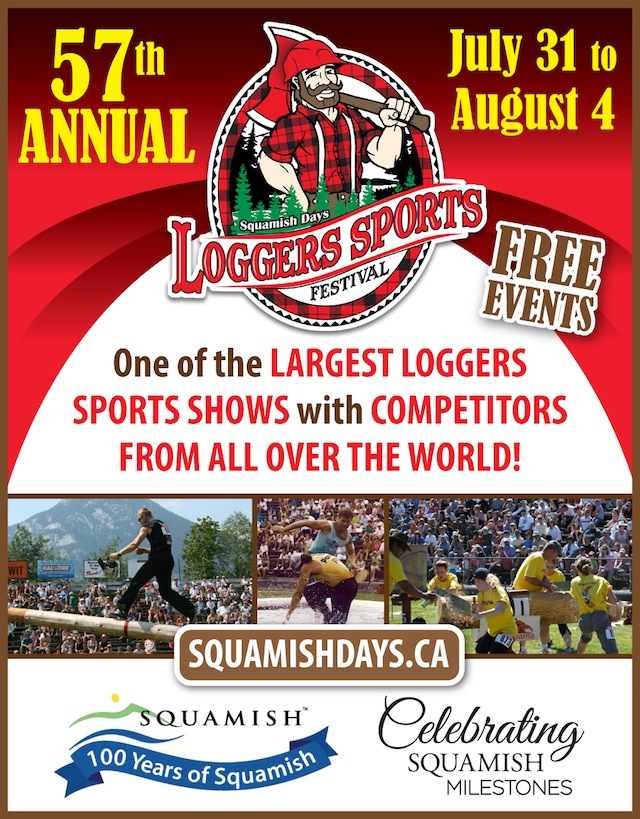 What: World Championship Chair Carve
When: Friday, August 1, 2014 at 3:00pm
Where: Squamish Station Mall
What: Squamish Days Bed Races
When: Friday, August 1, 2014 at 7:00pm
Where: Cleveland Ave, Downtown Squamish
What: Squamish Days Festival Parade
When: Sunday, August 3, 2014 at 11:00am
Where: Cleveland Ave, Downtown Squamish
What: Squamish Days 10km Run and Flashback Mile
When: Sunday, August 3, 2014
(Registration 6:30am-8:00am)
Where: Howe Sound Sec. School (Start & Finish)
Logger Sports Events
The following events and competitions will take place over at the Squamish Logger Sports Grounds (39555 Loggers Lane) from July 31st to August 4th: Tree Climbing; Tree Topping; Birling; Chokerman's Race; Axe Throwing; Underhand Chop; Butcher Block Chop; Obstacle Pole Bucking; Springboard Chop; Hand Bucking; Speed Bucking; Standing Block Chop; Tree Falling; Ladies Triple; and the Team Relay
Downtown Squamish Getaway
As a proud partner of the festival, I have the opportunity to do a very quick giveaway today thanks to Squamish Days Logger Sports Festival and Squamish2014. Drop everything, change your plans, and head for Squamish this weekend as you might win this awesome getaway prize package:
Friday Night in downtown Squamish has a lot going on including the Bed Race, and Pajama Shop & Street Party. Then on Saturday the winner can mini golf in the morning before heading to the Loggers Sports Show at 1:30pm (walking distance from hotel). The Howe Sound Brew Pub is also right downtown close to where all the fun is happening Friday night.
Here's how you can enter to win:
Leave a comment naming a Squamish Days event (1 entry)
Post the following on Twitter (1 entry)
RT to enter to win a @SquamishDays @Squamish2014 getaway from @Miss604 http://ow.ly/zNyqD
Follow Squamish Days on Facebook and Twitter for more information. I will draw one winner at random from all entries at 10:00pm Thursday, July 31, 2014. The winner must be able to attend this weekend (Friday, August 1, 2014 – Saturday, August 2, 2014) as all prizes are only valid during Squamish Days 2014.
Update The winner is Ron S!