Latincouver, a cultural and business society that hosts diverse, inclusive, and festive events, is proud to present Latin America House this summer, where you'll be able to watch all FIFA World Cup matches in Vancouver.
Where to Watch FIFA World Cup in Vancouver
Latin America House will show all FIFA World Cup games at Edgewater Casino on 3 huge theatre-sized screens. Those 19+ can enjoy a state of the art sound system, capacity for 420 soccer fans, prizes daily, drink specials for every match, and more.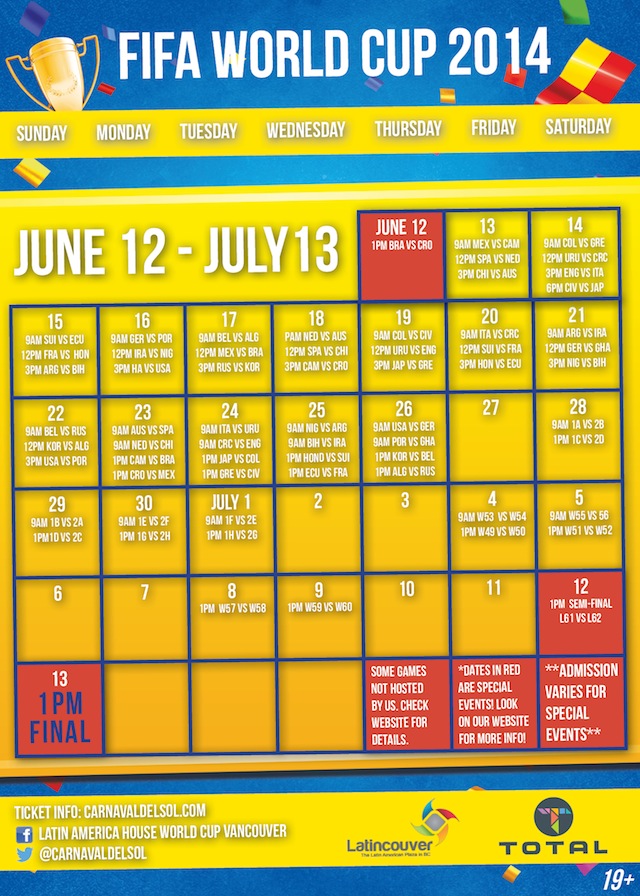 Entrance is a $5 minimum donation and advanced tickets are available now. There is free parking and it's also transit accessible from Stadium Station. The semi-final game on July 12th and Final game on July 13th are special events with live entertainment (special pricing applies), see the Facebook page for all the updates.
Latin American countries competing in the FIFA World Cup include: Argentina, Brazil, Chile, Colombia, Costa Rica, Ecuador, Honduras, Mexico, Uruguay. All nationalities are welcome at Latin America House so be sure to represent by wearing your country's colours and bringing flags.
Latin America Week in Vancouver
Miss604 is a proud media partner of Latin America Week in Vancouver and the Carnaval Del Sol, presenting the following events this summer: Latin America House – FIFA World Cup June 12 to July 13; Carnaval Del Sol July 5-6; Inspirational Latin Awards July 2; Canada Day Parade July 1; Tastes of Latin America June 28 to July 6, 2014.