Allegiant Air is a growing airline and the choice of many BC travellers when heading to destinations within the United States.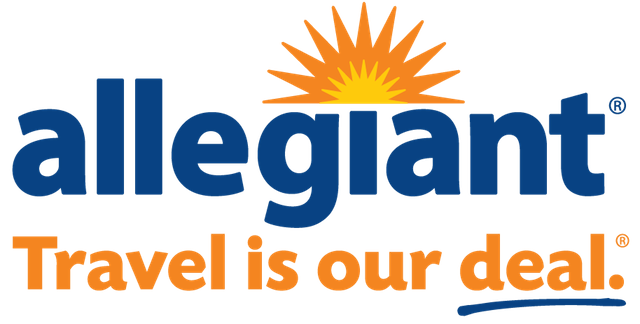 The airline's popularity in Bellingham led to an expansion of their presence at the local airport and was responsible for over 50% of the airport's passenger traffic in 2012.
The Bellingham Airport, just 1 hour from downtown Vancouver (not including border times), recently completed a $17-million, 60,000-square-foot addition to the main terminal, ticketing and baggage claim area and a 20,000-square-foot renovation of the passenger gates was completed last year [source].
John and I recently flew out of Bellingham when I won a trip with Allegiant Airlines. We parked our vehicle on-site, just a 2 minute walk from the front doors of the airport, and it only cost $30 for four days, which you might pay in one day for parking in Vancouver. From there we soared across the Pacific Northwest, over the desert, and landed in fabulous Las Vegas.
Allegiant Air #G4Summer
Allegiant is celebrating 15 years of low-cost air service to sunny vacation destinations by popping up in towns across the U.S. with free ice cream, $15.00 off coupons towards future Allegiant vacations, and a chance to win free Allegiant flights.
The carrier is sweetening the pot, hiding a "Golden Ticket" in free ice cream scoops across the U.S. Allegiant will host impromptu celebrations of summer and sunshine in cities throughout its network between May 5 and May 15, 2014. In each city one lucky winner will find a Golden Ticket in their summer treat that will get them aboard a vacation for two to the Allegiant destination of their choice. Travelers looking to hunt down a free summer vacation will have to follow the hashtag #G4Summer on the carrier's social media sites for hints to where the Allegiant team will be handing out sweet treats and great deals.
The Company, known for its exceptional travel deals on sunny vacations, will also be giving away mystery prizes to 15 lucky Facebook Fans every day beginning May 5 through May 30, 2014. Visit Allegiant's Facebook page to share your best summer travel tip and enter to win one of hundreds of prizes, from an Allegiant beach towel to free flights.
About Allegiant
Starting with just one plane flying from Fresno, Calif. to Las Vegas, NV on Feb. 28, 1999, Allegiant has grown to a fleet of 68 planes, flying over 7 million passengers last year. Allegiant now serves over 90 cities nationwide.
Over the years, Allegiant has carried over 40 million passengers, and the Company continues to grow, offering more nonstop service in more communities. In 2013, Allegiant announced service in 15 new cities and added 39 new routes to its network at a time when many airlines are consolidating and cutting service. The company recently announced its 44th consecutive quarter of profitable operation while keeping its average one-way fare under $100.
Enter to Win an Allegiant Air Getaway
To celebrate Allegiant's 15th anniversary, and to share some of the good fortune I had when winning the Allegiant blogger trip to Las Vegas, the carrier would like to offer up two roundtrip vouchers to one lucky Miss604 reader. The vouchers will be valid for travel between Bellingham Airport and an Allegiant Air destination city offered from there.
How about Bellingham to Honolulu? Las Vegas? Los Angeles? Maui? Palm Springs? Phoenix? San Diego? Or San Francisco?
Here's how you can enter to win:
Leave a comment here naming your top dream Allegiant destination (1 entry)
Post a travel photo on Instagram tagging @Miss604 @AllegiantTravel #G4Summer (1 entry)
Post the following on Twitter (1 entry)
RT to enter to win 2 roundtrip @AllegiantTravel vouchers from @Miss604 http://ow.ly/wOuhN #G4Summer
I will draw one lucky winner from all entries on Thursday, May 29, 2014. Follow Allegiant Air on Twitter, Facebook, and Instagram for more information about their services and destinations.
Airfare is valid for travel on Allegiant and only between cities indicated (in this case, starting from Bellingham Airport). Airfare is based on availability. Seats are limited and may not be available on all flights. Prize is non-transferable. No substitution or transfer of prize or cash redemption is permitted. However Allegiant may, at its option, substitute another prize of equal or greater value, or the cash value of the above prize, if the stated prize is unavailable. Any prize not redeemed in full within one year of date of issue will be forfeited. [expand title="Click to view full contest rules and regulations"] Additional Options: Confirmation is for air travel only and does not include insurance and additional baggage fees. If winner chooses to prepay additional luggage or would like to purchase pre-assigned seats, they must call the reservations line at 702-505-8888 once they receive their itinerary. All expenses and incidentals not mentioned above, as well as required travel documents are the responsibility of the winner and winner's travel guest. Transportation is not included.
Changes/Cancellation: No changes or substitutions will be permitted. Changing the date of travel is not permitted. Changing the originating city and destination of the agreement is not permitted. Allegiant reserves the right to cancel, alter routes/ times and suspend air service without notice. Management reserves all rights. No cash value.
Use of Likeness: By accepting prize, winner consents to use of their name, photograph and/or likeness for advertising/publicity purposes without additional compensation, except where prohibited by law.
Eligibility: Open to legal residents of the continental U.S., Canada or Mexico, 21 years of age or older. Employees (and their immediate families) of Allegiant Air, their subsidiaries, vendors, media partners and advertising agencies are not eligible. Void where prohibited. Federal, state, and local laws and regulations apply.[/expand]
Update The winner is Emily!