#WhatsTheLink is a series about all that TransLink, Metro Vancouver's transportation authority, is responsible for in the region. Join the conversation on Instagram, Twitter and Facebook. These guest posts are written by Robert Willis.

#WhatsTheLink: Three out of 418,000 riders – Surrey Central Station
Jump on the SkyTrain during rush hour or watch the successive buses full of riders arrive at the 2014 Fair at the PNE this summer, and it's plain to see that transit is well used in Metro Vancouver. But just how many people use transit in the region?
In numbers, 418,000 people take TransLink transit every day. That's a lot of people!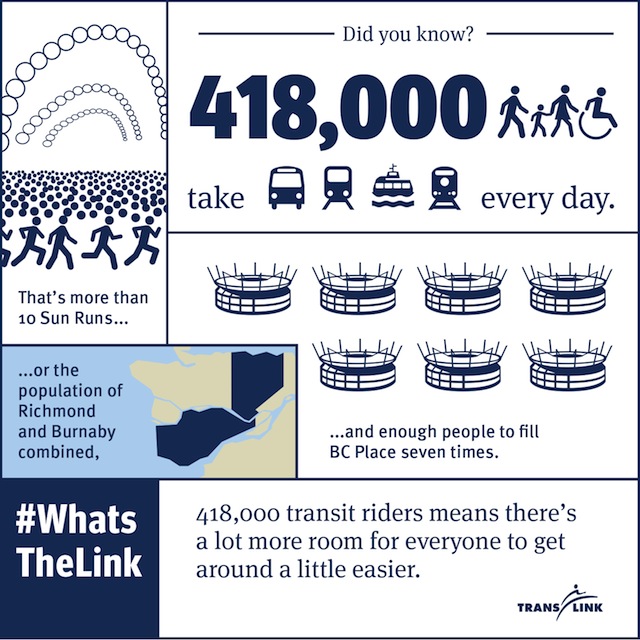 So just who are those 418,000 riders? Well, as you can imagine, they're all different, and they use transit as well as the roads, bridges, and cycling options TransLink provides differently. So, I headed down to Surrey Central Station—a major transit hub in our system—to meet and get a few snapshots of transit riders in the region.
Nick Renowitzky
Nick was travelling by transit from Coquitlam to Surrey Central on a sunny Monday morning. The commute took him about an hour. His current schedule has him using transit at least three days a week, but when school was in session, he was on transit at least five days a week for an hour and a half commute to Langley. As Nick puts it,
"It's pretty good. It gets me to where I want to go. The bus isn't a car, but it's a tradeoff. I don't have to pay for insurance or the car itself."
When I asked him what he does on transit, Nick replied that he reads, uses his phone or sleeps, adding, "For whatever reason, I can nap on the bus and wake up at my stop."
Albe Zhu
Albe doesn't use transit as often as Nick does. Four or five times a month she says she uses the bus and SkyTrain to go downtown on the weekends. For Albe, she uses transit for these trips for convenience, stating, "… it's easier to use public transit because it's hard to find parking downtown." Albe told me she likes to use her phone on transit.
Today, Albe was using the bus to go to work from New Westminster because her car was in the shop.
Alisha Horvath
I met Alisha and her adorable five-month-old son while she was waiting for a bus. Alisha is what you would call a heavy transit user. "I take transit more than once every day. I take my step-daughter to school. I take it to the mall. I go everywhere on the bus," Alisha tells me. Travelling on bus and SkyTrain primarily in Surrey, Alisha says she's comfortable taking the bus and enjoys reading and checking Facebook on transit.
Are you one of the 418,000 people using transit today? If so, why do you use transit over other modes of transportation? Are your reasons different from those of the transit users above?