Virgin Mobile recently announced its newest RE*Generation phone, the Samsung GALAXY S5. Not only is this a highly-anticipated and talked-about phone — due in part to its 16MP camera, 16GB of memory and Android™ 4.4.2 KitKat® operating system — but it also does some good.
Right now, $15 from the sale of every GALAXY S5 bought from Virgin Mobile will go to Virgin Mobile RE*Generation, an initiative dedicated to helping at-risk and homeless youth.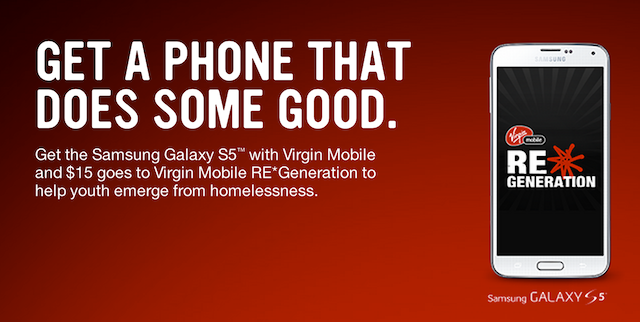 This is the sixth phone in the RE*Generation phone program. Since its inception in 2008, the program has raised over $1 million to support the lives of at-risk and homeless youth across Canada. I remember when Sir Richard Branson's daughter, Holly Branson, spoke at WE Day in Vancouver about social initiatives. She quoted an African proverb: "If you want to go fast, go alone. If you want to go far, go together." Speaking to the power of many, for a single cause, and what can be accomplished.
Right now there are 225,000 Canadian youth without a job and not in school. 35,000 live in emergency shelters, and tonight up to 6,000 youth will sleep on the streets — a reason why I support Covenant House in Vancouver, a cause that Virgin Mobile has previously supported in North America.
The cycle of homelessness is extremely difficult to escape without help. With little income or opportunities to work, at-risk youth can't afford decent, stable accommodations or the basic necessities. This lack makes it a huge challenge to sustain work or emerge from homelessness, and so the cycle continues.

Virgin Mobile RE*Generation empowers a generation to help its own and support at-risk and homeless youth. This movement is committed to creating new opportunities and experiences for at-risk and homeless youth across the country to help them emerge out of the cycle of homelessness. To date, more than $2.5 million has been raised and dispersed to leading youth serving agencies across the country from programs such as Change For A Dollar, Text to Donate, the RE*Generation phone and ongoing benefit concerts. Join Virgin Mobile RE*Generation to help give a chance to youth who need it the most.
Get the Samsung Galaxy S5™ with Virgin Mobile and $15 goes to Virgin Mobile RE*Generation to help youth emerge from homelessness. The phone is available at any Virgin Mobile store or kiosk, online, or call 1-888-999-2321.
Virgin Mobile RE*Generation Giveaway
Virgin Mobile RE*Generation has offered up a Samsung GALAXY S5, the phone that does some good, to one lucky Miss604 reader. Here's how you can enter to win:
Leave a comment on this post (1 entry)
Like, comment, or share this image on Facebook (1 entry)
Post the following on Twitter (1 entry)
RT to enter to win a Samsung GALAXY S5 from @virginmobilecan RE*Generation + @Miss604 http://ow.ly/xbmPq
Follow Virgin Mobile Canada on Twitter and Facebook for more information about RE*Generation.
I will draw one winner at random from all entries at 12:00pm on Friday, May 30, 2014. The Samsung GALAXY S5 prize will be for use on the Virgin Mobile Canada network, plan not included with this prize.
Update The winner is Samantha Clark!