Last September the Vancouver Canadians won their third straight Northwest League title and these champions want to engage the loyal and fun-loving fans in Vancouver in their latest promotion, helping them name their Next Top Mascot.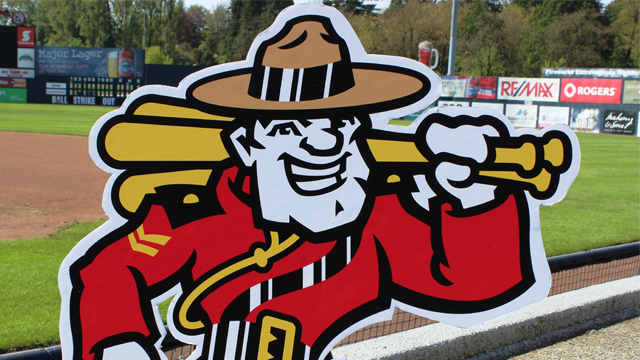 Vancouver Canadians Next Top Mascot
He is already being touted as one of Minor League Baseball's most intriguing and fierce new characters, yet the Vancouver Canadians newest addition to the baseball family has no official name.

The Canadians, who return to Scotiabank Field on Wednesday, June 18th at 7:05pm, are calling on fans of all ages to help name their newest, fun-loving character through a 'tongue-in-cheek' promotion pegged as 'Next Top Mascot'.

"We have some really creative and passionate fans that I believe will enjoy this challenge," said Canadians president Andy Dunn. "They have a real passion for the history of the game here in Vancouver and asking them to help name our latest character is a fun way to tap into their ideas and get us all excited about another season of Canadians Baseball which is now just weeks away."

The mark, which may look familiar to some, was introduced this past January as a historical tribute to the great baseball history Vancouver has enjoyed out at Scotiabank Field dating back to 1951 when the Capilanos and Mounties took to the field at the base of Queen Elizabeth Park paving the way for the current team's tremendous success. [Watch the Video | Read the Press Release]
Fans are invited to submit their name suggestion in one of four ways:
Drop off your entry at the Canadians' box office at Scotiabank Field at Nat Bailey Stadium, now open from 9:00am to 5:00pm on weekdays and 10:00am to 3:00pm on weekends
Enter through Facebook or Twitter using the hashtag #NextTopMascot
Like the Vancouver Canadians Facebook page, then post your idea with the hashtag
Follow @vancanadians on Twitter, then tweet your idea with the hashtag
Submit an email to [email protected]
The grand prize is a family pack of Canadians baseball fun, including 4 Season Tickets to the upcoming 2014 season, 4 Canadians jerseys featuring the new logo and a chance to throw out the first pitch at an upcoming Canadians' game!
If more than one entrant submits the same winning name, the prize-winner will be drawn at random from all winning entrants. The winner will be announced June 1st. The 2014 baseball season kicks off on June 13th, with the Canadians' home opener on June 18th against the Spokane Indians at Scotiabank Field at Nat Bailey Stadium.