#WhatsTheLink is a series about all that TransLink, Metro Vancouver's transportation authority, is responsible for in the region. Join the conversation on Instagram, Twitter and Facebook. These guest posts are written by Robert Willis.

Macarons and Kingsway are part of your Major Road Network
Kingsway is a road unlike any other in Metro Vancouver. At first a walking trail for local First Nations, it then became a wagon road in the mid-19th century.
Stretching diagonally from north to south starting from Vancouver's Main Street just south of East 7th Avenue and becoming 12th Street at the Burnaby-New Westminster border, Kingsway is a living part of our region's history and cultural fabric.
Kingsway is also part of TransLink's Major Road Network (MRN). The MRN is a network of major arterial roads that stretches across the region and connects people and transports goods across municipal boundaries. In fact, if you stretched all 2,300 lane kilometres of major roads under TransLink's responsibility from end to end, you'd end up in beautiful sunny Southern California!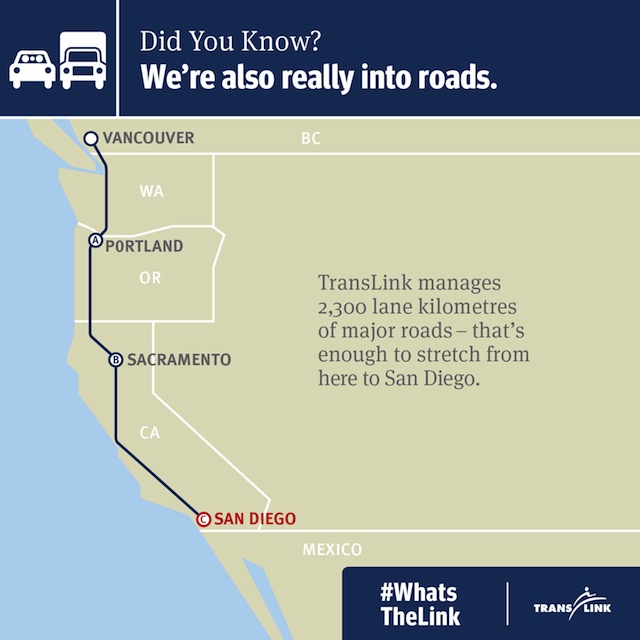 Walking the north end of Kingsway you find yourself surround by all types of business and people. Coffee drinkers imbibe at coffee shops next to hair salons, eateries and various shops.
One place I stopped in was the unassuming bakery at 81 Kingsway. It was the pastel colours of macarons that caught my eye and the smell of butter that lured me through the doors of French Made Baking. Once inside, I was met by almond croissants hot from the oven and Parisian-accented English.
French Made Baking is a family-run business: Catherine Introligator is the manager of the bakery and her husband is the chef/baker. I sat down and talked to her to see why she chose this location for her bakery:
"We like the east side of Vancouver. It's laid back, and we thought the people here needed a good French bakery," says Catherine who chose Kingsway over Paris, which was for her too crowded. "We looked at other locations in East Vancouver, but we like this location. There are three big roads, and Kingsway has a lot of traffic, which brings in business. The street is about independent and family businesses."
This historical road has brought a lot of different people and businesses to the region over the years and will undoubtedly continue to do so for some years to come.
Like other MRN roads such as Knight Street, Broadway, Lougheed Highway and the Fraser Highway (to name just a few), Kingsway is part of our larger transportation system that also includes bridges, buses, SkyTrain, SeaBus and West Coast Express.
People don't often think about TransLink when talking about roads, but funding the maintenance of MRN roads as well as linking roads, bridges and transit together is how TransLink plays a crucial part in helping people and goods move within our region.
As I leave the bakery, I find myself teleported back from a slice of Paris to the bustling urban triangle that is Kingsway, Broadway and Main Street. Boarding a bus on Broadway, another MRN road, to the nearest SkyTrain station, I'm pleased to know that whether traveling it by foot, bike, bus, or car, Kingsway is part of our linked transportation system. And I can access a Paris via East Vancouver and the treats that world-class city is famous for easily from nearly anywhere in our region.