Earlier this year there was a call out for design ideas for this summer's Robson Redux that will close Robson to traffic between Howe and Hornby, engaging those who pass by.
78 entries have been received from designers and architects, including candidates from Japan and Spain. A jury will ultimately decide which project is both fitting and feasible, but the public will be able to vote for their favourite idea online and select a peoples' choice winner. [Source: Vancouver Metro]
Robson Redux: Entries
I like concepts that combine unique design elements along with the ability to chill out, relax, and slow things down in the midst of the city's hustle and bustle. Here is a small sample of the entries that have been revealed: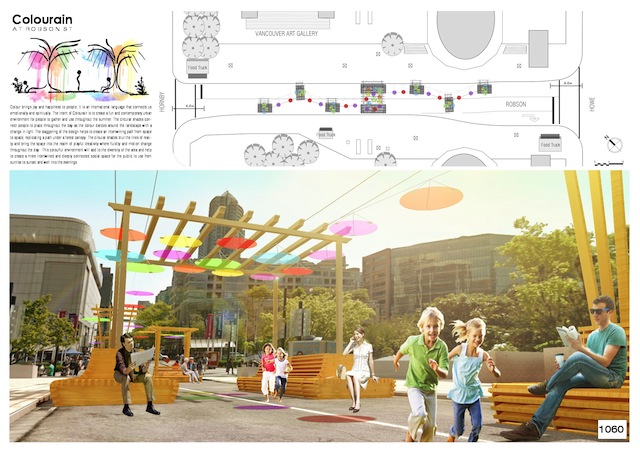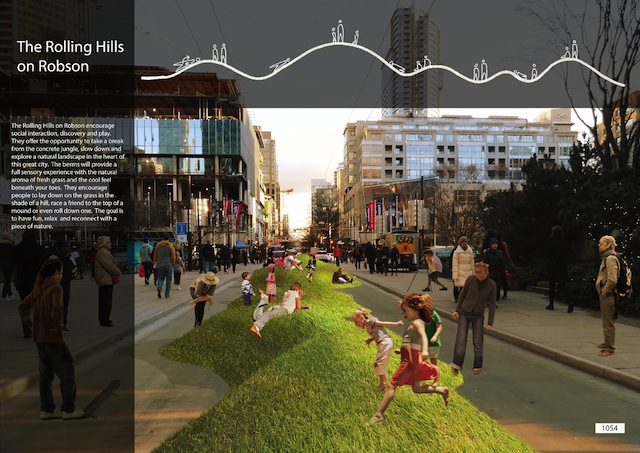 Colourain | The Rolling Hills on Robson
Be sure to vote in the online gallery poll until it closes April 13, 2014. The winner will be announced on April 15th.
VIVA Vancouver is a public space program that specializes in turning road spaces into people places. Working with various community partners, the program is aimed at re-purposing road space to create temporary or semi-permanent public space. In doing so, VIVA Vancouver lays the foundation for a vibrant public space realm that fosters social connections between neighbours and encourages residents to engage in active modes of transportation like walking or cycling.