Bad Dog Productions presents its highly successful Western Canadian exclusive production of The Hound of the Baskervilles in Vancouver at Studio 1398 on Granville Island from Tuesday, April 22nd through to Saturday, May 3rd, 2014.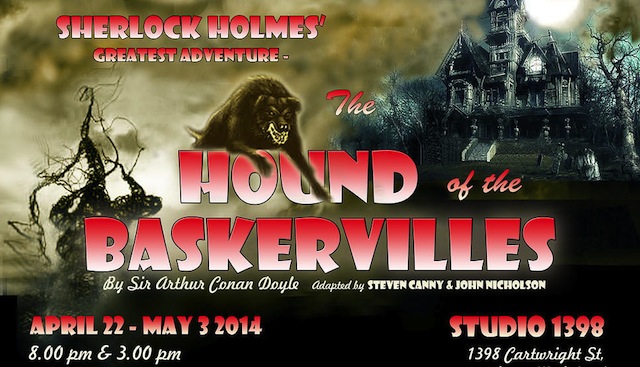 The Hound of the Baskervilles on Granville Island
Directed by Langley-based, multi award-winning director, Ellie King, this imaginative and hysterical spoof of the classic Sherlock Holmes story is a challenging, yet highly entertaining piece of theatre filled with lightning fast changes of character, scenery, and costume.

The Hound of the Baskervilles is one of the most famous detective stories ever told. The noble Baskerville family is threatened by a curse: "a great, black beast larger than any hound that ever mortal eye has rested upon" terrorizes and kills any family member who comes to live at the Baskerville estate. Into this atmosphere of lonely moors, ancient secrets, deadly threats, and ghostly apparitions comes the supremely rational Sherlock Holmes – a man described by his friend Watson as "the most perfect reasoning and observing machine the world has ever seen." Piece by piece, Holmes and Watson solve the mystery and find the culprit.
I attended the premiere in Surrey last fall along with members of BC's Sherlock Holmes Society who called the production a "wonderfully hilarious spoof."
Tickets and Show Details
Tickets for The Hound of the Baskervilles are available online, by phone at 1-800-838-3996, or in person (one hour prior to curtain only) at Studio 1398, which is located on Granville Island at 1398 Cartwright Street.
April 22nd to April 24th at 8:00pm
Preview performances: $15
Student Rush tickets: $10 (with a valid student ID)
April 25th, 26th, 30th and May 1st to 3rd at 8:00pm / April 26th and May 3rd at 3:00pm
Adult admission: $25
Over 60 & under 14: $20
Student Rush tickets: $10 (with a valid student ID)
School Matinees April 30 and May 1 at 1:00pm*
School/group booking: $10 (one complimentary ticket per 10 purchased)
*can only be booked through [email protected]
Contest
If you would like to check out The Hound of the Baskervilles, I have a pair of tickets to give away for its run on Granville Island. Here's how you can enter to win:
Leave a comment on this post (1 entry)
Post the following on Twitter (1 entry)
RT to enter to win tickets to @Hound1398 from @Miss604 http://ow.ly/vpvbD
I will draw one winner at random from all entries at 12:00pm on Friday, April 11th, 2014. Follow the production on Facebook and Twitter for more information.
Update The winner is Annie mike gismondi!