Celebrate youth in our community during BC Youth Week, taking place May 1st through May 7th, 2014. Youth Week is an international celebration recognizing the value, diversity and positive contributions youth make in their communities. Be sure to catch one of many events including everything from sporting events and art shows to award ceremonies and random acts of kindness.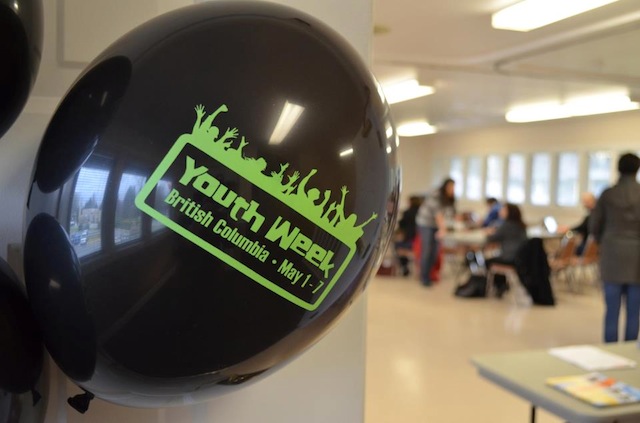 BC Youth Week Events
There are dozens of events happening from Courtenay to Clearwater, here are just a few that are scheduled around the Lower Mainland:
Carnival – Abbotsford
Date: Saturday, May 3, 2014
Time: 6:00pm to 9:00pm
Location: AYC Youth Centre at Abbotsford Rec Centre
Try out the HUGE inflatable obstacle race course and they will have carnival style games, popcorn, snow cones and a sweet photo booth. All youth 12-18 are welcome to join this super fun night at our youth centre at ARC. Read more »
Youth Week Block Party – Burnaby
Date: Saturday, May 3, 2014
Time: 12:30pm to 4:00pm
For Ages: 10-18, free admission
Location: Summit Youth Centre/Confederation Park
The BIGGEST event of the week celebrates Youth and Raises Awareness of Sexually Exploited Children & Youth. Come check out the BBQ, live DJ, open mike, scavenger hunt, art in the park, music, and more. Read more »
Dodge Ball Tournament – Coquitlam
Date: Friday, May 2, 2014
Time: 6:30pm to 7:30pm
Location: Centennial Activity Centre
This fun drop-in tournament will feature an exciting variety of dodge ball variations. Cost is $2, includes prizes. Read more »
Surrey Steps Up Showcase – Surrey
Date: Friday, May 2, 2014
Time: 6:30pm to 10:00pm
An opportunity for youth to broadcast their creativity, compassion and courage to the world. From Guilford Park to Earl Marriot, Clayton Heights to Tamanawis, our city is alive with amazing young people who are stepping up and transforming their communities through arts, athletics, and activism. Read more »
WHOMP – Maple Ridge/Pitt Meadows
Date: Saturday May 3, 2014 at 9:00pm to
Sunday May 4, 2014 at 8:00am
Location: Greg Moore Youth Centre (11925 Haney Place)
Cost: $10
This all-nighter is jam packed with activities from swimming to obstacle courses to trivia. Prizes, pizza, and guaranteed fun. Read more »
Youth Fest 2014 – Mission
Date : Saturday, May 3, 2014
Time: 12:00pm to 10:00pm
Location: Mission Leisure Centre
Activities will include skate board and dance competitions, a performance by Childsplay, Graffiti Art, Dunk Tank, Food Eating Contests, and a dance. Read more »
Youth Week Event – Vancouver
Date: Saturday, May 3, 2014
Time: 11:00am to 4:00pm
Location: Creekside Community Centre & Downtown Skate Plaza
Join the fun at Creekside Community Centre and the outside area to the Union Street Skate Park with performances, dragon boating, skate boarding, hip hop dancing, inflatables, 3 on 3 basketball, dodgeball, street art, prizes. Read more »
Walk so Kids Can Talk- Kids Help Phone
Date: Sunday, May 4, 2014
Time: 9:30am to 3:30pm
Location: Various: Vancouver, Victoria, Fraser Valley, Nanaimo, Kelowna
Cost: Free, pledges welcomed
Kids Help Phone's Walk so Kids Can Talk presented by BMO is a fun, healthy, family friendly event that can be enjoyed by individuals, groups, families, students, schools, and corporate teams. It's a terrific way to build community and come together to enjoy a great experience outdoors while supporting a vital cause: young people's mental health and well-being.
Youth Awards Ceremony- District of North Vancouver
Date: Monday, May 5, 2014
Time: 6:00pm
Location: District of North Vancouver Municipal Hall – 335 W Queens Rd
Join the District of North Vancouver at our Youth Awards Ceremony.
Big Day Out – Township of Langley
Date: Wednesday, May 7, 2014
Time: 3:30pm to 5:30pm
Location: W.C. Blair Recreation Centre
Join the fun at the skate park for music, skate and bike competitions, free food, and prizes. Read more »
To find out what's happening in your community today, check out the BC Youth Week event listings by city and become a fan of BC Youth Week on Facebook.
Miss604 is a proud partner of BC Youth Week and Surrey Youth Fest.