After the Vancouver 2010 Winter Olympics ended the city was cold, quiet, and left like an empty ballroom after the wedding party and guests took off for the night. However when the Paralympics began a few days later, what we thought we be a warm rekindling of Olympic spirit turned out to be an all out bonfire of energy, pride, patriotism, and awe.
The Sochi 2014 Paralympic Games are coming up March 7th to March 16th and while supporting Team Canada is a given, I thought I would put together a quick list of extra reasons to get behind our para-athletes this year:
The Canadian Paralympic Committee
Knows How To Get You Excited
With their "It's not what's missing, it's what's there" campaign the Canadian Paralympic Committee has once again managed to show us the power of the Paralympics through a clever marketing campaign. When we witnessed the Paralympic Games first-hand in Vancouver they were definitely "bold, formidable, energetic".


14 athletes in the "What's There" campaign include para-snowboarders Michelle Salt (Calgary, AB) and Tyler Mosher (Whistler, BC); sledge hockey players Dominic Larocque (Quebec City, QC) and Tyler McGregor (Forest, ON); para-alpine skiers Josh Dueck (Kimberley, BC) and Kimberly Joines (Rossland, BC); para-Nordic skiers Mark Arendz (Hartsville, PEI), Brian McKeever (Canmore, AB) and guide Erik Carleton (Canmore, AB); and Team Canada's wheelchair curling team of Sonja Gaudet (Vernon, BC, Ina Forrest (Armstrong, BC), Jim Armstrong (Cambridge, ON), Dennis Thiessen (Sanford, MB) and Mark Ideson (London, ON)
Our Para-Athletes Dominate
At the Vancouver 2010 Paralympics Canada took home 10 gold, 5 silver, and 4 bronze. They were the most successful Winter Paralympics ever for our country. Viviane Forest became the first para-athlete to win a gold in both the Winter and Summer Games, by winning the Women's Downhill for Visually Impaired.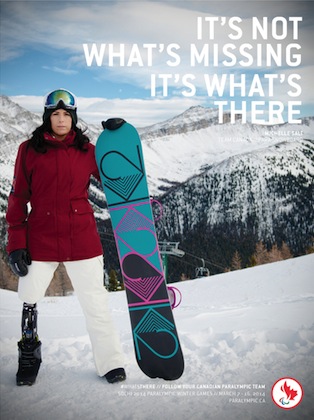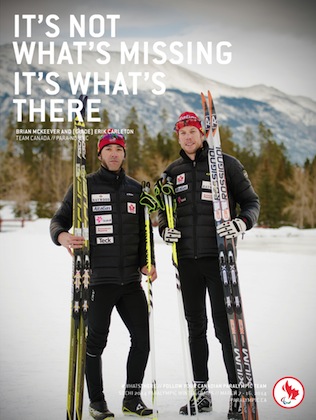 Brian McKeever
Brian McKeever will once again lead Canada's cross-country team at the Sochi Paralympics. The 10-time medallist has won seven Paralympic gold medals in his career and he's ready to go all out again in Russia.
Yves Bourque and Josh Dueck
Also watch for Yves Bourque who picked up a gold, two silver, and a bronze at the 2013 Canadian Nationals in Para-Nordic skiing. Josh Dueck won a silver medal at the 2010 Winter Paralympics in the men's slalom sit-ski event and he was also the first person to perform a backflip on snow in a Sit Ski in 2012.
Wheelchair Curling
Canada was golden at the Sochi Winter Olympics and we're hoping to sweep the curling world at the Paralympics as our reigning gold medal curlers take to the rink at Sochi.
Skip Jim Armstrong will try to repeat his gold medal performances from 2006 and 2010 with the co-ed team.
Lauren Woolstencroft
While Lauren Woolstencroft (retired) won't be competing I can't possibly make a list of awesome things about the Paralympics without including her. Known as the Paralympic Winter Games "Golden Girl," Lauren Woolstencroft is one of the best Alpine skiers in the world winning eight gold, one silver, and one bronze medal won over three Paralympic Games. She has inspired and created an amazing legacy for young athletes and para-athletes. Read more about Lauren at the BC Sports Hall of Fame.
Sledge Hockey
Extremely exciting to watch, our men's team won gold at the World Championships in South Korea in 2013 so look for them to regain medal standings at the Paralympics this year too.
John Biehler and I covered the Vancouver 2010 Olympics and Paralympics extensively and this high-energy compilation of John's 2000+ sledge hockey photos embodies the excitement we felt during both of these major events.
About the Canadian Paralympic Team
There are 28 sports at the Paralympics between Para-Alpine, Para-Nordic, Biathlon, Sledge Hockey, Para-Snowboard, and Wheelchair Curling.
Learn more about Team Canada online and follow the Canadian Paralympic Committee on Twitter. They also have a full Twitter list of Sochi 2014 Para-Athletes on Twitter.