The Expo Line is undergoing a few upgrades and the most visible is taking place at Main Street Science World SkyTrain station.
Main Street Science World SkyTrain Construction Update
Construction began in 2013 and is expected to be complete by the end of 2014. Some of the upgrades you can expect include: An expanded east stationhouse with a new entrance, a new west station entrance, new escalators, stairs and elevator to increase capacity and improve accessibility, open station design with better lighting and visibility for a safer and improved customer experience, and a new secure parking area for bicycles.
Main Street–Science World Station is the oldest station on TransLink's rapid transit system. Located beside Science World, it was originally built in 1982 as a demonstration station for Expo '86, and is now one of the busiest stations on the system. The station has long been recognized as a priority for upgrades – it's one of the stations where accessibility upgrades are needed the most. The need to upgrade this station is part of the Expo Line Upgrade Strategy.
Phase 1 went from spring 2013 until now and we're heading into the second phase, that will last until sinter 2015. During Phase 2, starting April 2014, the west side of station (Science World side) will be temporarily closed and passengers will be re-directed to the newly renovated east side entrance (park side). The west side station house will be rebuilt to include a new elevator and retail spaces.
Train2Main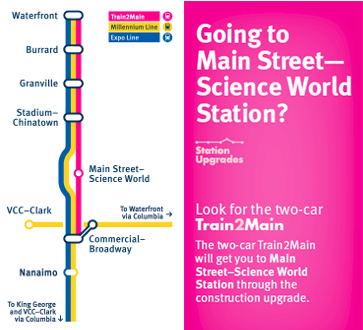 SkyTrain service will operate normally with the exception of March 30, 2014 to fall 2014, when SkyTrain will operate Main Street Science World shuttle train service, called Train2Main.
A special two-car train, Train2Main, will provide service to and from Waterfront, Burrard, Granville, Stadium Chinatown, and Commercial Broadway. So if you're coming from the east (Surrey, New Westminster, Burnaby) and want to get to Main Street, disembark at Commercial Broadway and wait to switch to a Train2Main two-car train. If you're going straight through to downtown, there is no need to change course.
Train2Main will run every 10-12 minutes and will operate for approximately six months. Read more details about this project, Train2Main, and construction updates on the Translink website and follow along on Twitter @Translink.