The CBCMusic.ca Festival was announced this morning, bringing some top talent to Deer Lake Park on June 14th and giving fans a chance to enjoy live music outdoors this summer.
CBC Music Festival Lineup
The CBCMusic.ca Festival will be hosted by Jian Ghomeshi, with special co-host appearances by CBC's Stephen Quinn, Tom Power, CBC News Vancouver hosts Gloria Macarenko and Renee Filippone, Rich Terfry will DJ a special set on stage and more.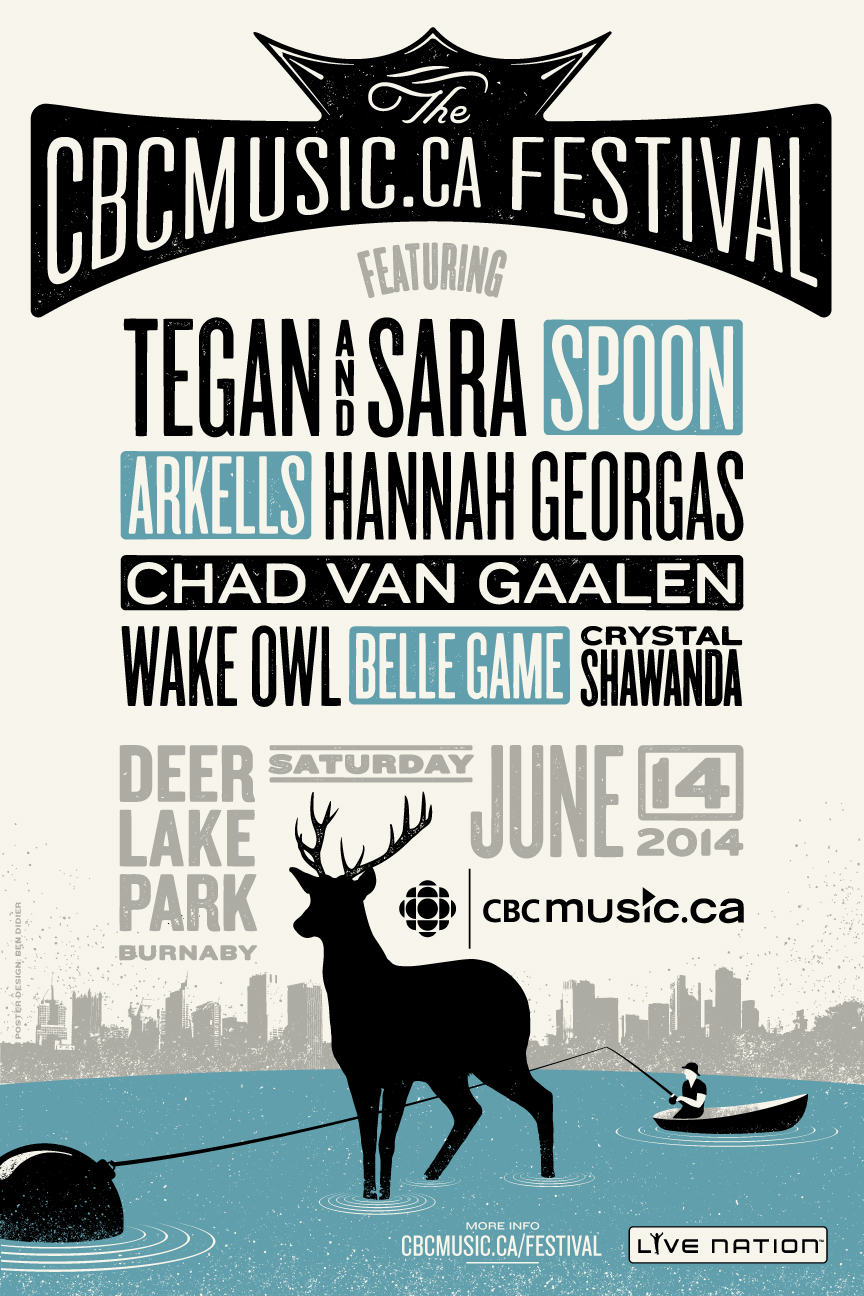 The concert lineup includes: Tegan and Sara, Spoon, Arkells, Hannah Georgas, Chad VanGaalen, Wake Owl, Belle Game, Crystal Shawanda, and the CBC Music Searchlight winner, who will be announced on CBC Radio One's Q on Friday, May 9th.
Searchlight is a competition that connects artists with fans in their community and across the country. Vote for your favourite bands in your region and across the country. It's all leading to a grand prize, including $20,000 worth of music equipment from Yamaha Canada Music, a professional recording with CBC Music, and an opening spot on a high profile music showcase.
Tickets for CBCMusic.ca Festival go on sale Friday, April 4, 2014 at 10:00am with an exclusive advance sale for CBCMusic.ca users on Thursday, April 3 from 10:00am to 10:00pm.
Purchase tickets online, by phone at 1-855-985-5000, or in person at a Ticketmaster Outlet for $59.50 (including GST) or you can get a Family 4-Pack Bundle for $200 (plus FMF & Service charges).
Follow CBC Music on Facebook and Twitter for more information about the festival and the CBC Searchlight competition.
Update Dan Mangan will join Tegan and Sara, Spoon, Arkells, Hannah Georgas and others at the second annual CBCMusic.ca Festival produced by Live Nation Canada. This year's festival will take place at Deer Lake Park in Burnaby, B.C. (6450 Deer Lake Ave) on Saturday, June 14, 2014.